Art Yard was an attempt to transform a neglected space in the city centre by art interventions.
From May till November 2010 various media projects, such as objects, graffiti, murals, neon signs, graphic messages, installations and banners were carried out.
Art Yard was the only way to the Biała Gallery.
The projects is funded by the Ministry of Culture and National Heritage.
---
Jan Gryka i Piotr Wysocki – White History
---
Twożywo – Barbarity of Life/Civilisation of Death

---
Jadwiga Sawicka – Forget
---
Ilona Oszust, Karolina Lorentz, Łukasz Kowal, Jakub Jeremicz, Mateusz Kubiak – Graffiti
---
Piotr Wysocki – Art Yard
---
Jarosław Koziara – Carousel
---
Michał Stachyra – Jumpers
---
Krzysztof Bryła – Paintings
---
Kamil Stańczak – Bunkers
---
Tomasz Bielak – I Don't Believe Pills
---
Jan Gryka – China plastic is fantastic
---
Magdalena Franczak – Traces
---
Rafał Czępiński – Signpost
---
Jan Gryka i Piotr Wysocki – Art Yard by Night
---
Exhibition and a meeting promoting the Art Yard catalogue and presenting Ewelina Kruszewska's film, "Art Yard"
---
Art Yard in Winter
---
Monika Barszczewska i Małgorzata Olszak – Flower Garden

---
Estera Mariańczyk
---
Ilona Oszust i Łukasz Kowal – Graffiti
---
Piotr Strobel – Change (performance)
---
Podwórko Sztuki – Entrance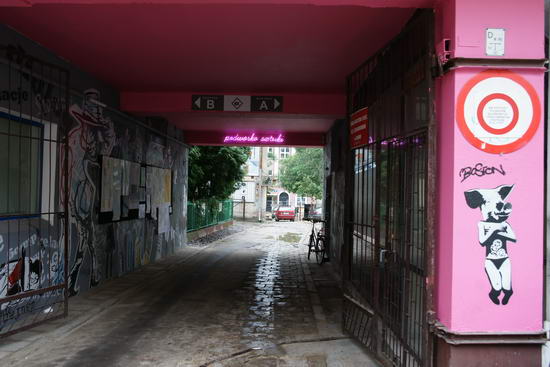 ---
Aleksandra Ignasiak – Ungraying Lublin
---
Ked Olszewski – Trinket