Opening: 22.06.2011, opening hour: 18.00
Open until: 15.07.2011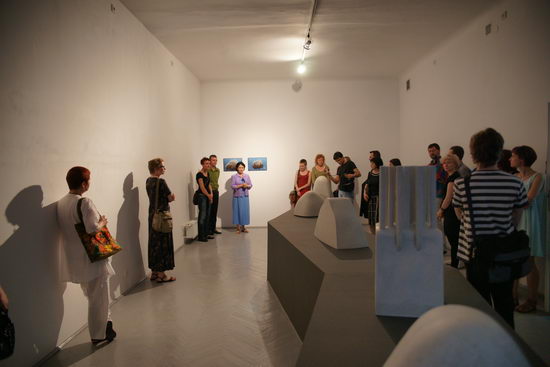 "Equivalent Forms", Hege Lønne's individual exhibition presents sculptures and video projections that make up an installation prepared especially for The Biała Gallery.
Equivalent Forms combine the language of nature with the language of art and emphasize the equality of natural and artificial elements representing "the artificiality of nature" and "naturalness of art". All works presented at the exhibition, carefully prepared both composition and construction-wise, are equally important.
The artist's latest works, including those that we will see at the exhibition, evolve from her two recent areas of interest. First is the relationship between man and nature and the other, abstract sculpture as an autonomous art form, which brings to minds the international modernism, especially of the 1950s and 60s.
Sculptures, which Hege Lønne has been making since the beginning of her artistic career, use the language of nature, but their form's primary aim is to express the ideas of the artist. With their shape inviting us to touch them, the sculptures are a reservoir of sensuality and potential for various interpretations, also the ones that will explore the subconscious and refer to intuition rather than reason. The artist uses sculptures, autonomous in form, to build her complex installations, constellations of forms set in time and space, that turn the exhibition into a medium.
When it comes to the form of the exhibition, it refers to the history of exhibition art, especially to the 1960s approach to combine the experimental and classical methods of presenting art. The sculptures are placed on a long platform inside the gallery. Built in the centre, at the whole length of the exhibition room, the platform in a natural way organizes the exhibition space and determines the direction of video projections on the wall, which adds yet another element to the illusion created by the space that enters into a dialogue with the three-dimensional sculptures and the minimalist space arrangement. The character of the exhibition and the way it is presented prove that art can be classical and experimental at the same time and show that the outcome of experimenting with art may be much more interesting than simple imitation of ancient art or sentimentalism.
Two video works with minimal narration that, at first glance, resemble simple photographs, tell a story of nature seen as uncontrolled force full of mysteries and dangers, intriguing and seducing with its beauty. The first shows tall trees reflected in the water and the second a stone wood that leads its own life.
Michał Jachuła
Hege Lønne (born 1961) lives and works in Warsaw. She studied at the Academy of Fine Arts in Warsaw and Kunstakademiet i Trondheim. She works in the field of video, sculpture, installation and textual work. Her works were exhibited at the Centre for Contemporary Art Ujazdowski Castle in Warsaw (2008); Czarna Gallery, Warsaw (2009); CCS Bard College, Annandale-on-Hudson, New York (2010), among others.