GROUP EXHIBITION
Opening: 26.10.2018, opening hour: 18.00
Open until: 30.11.2018, opening hours: MON-SAT 12.00-18.00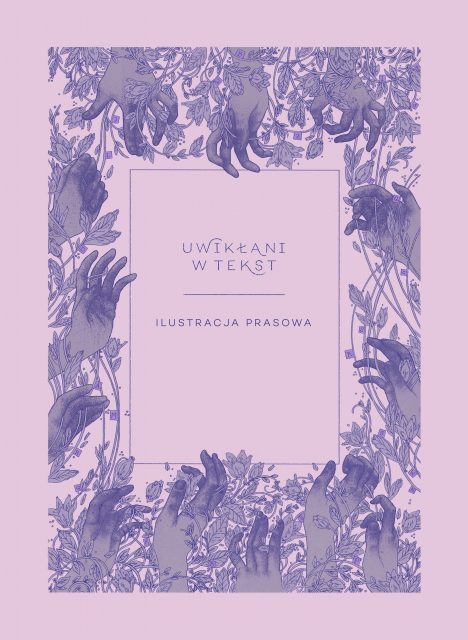 We live in a culture of images and brief information. We are accustomed to quick and short-term visual stimuli, which have made it increasingly difficult for the media to attract our attention. In the world dominated by photography, literalness and hashtags, the press is till able to find its own place, which is not solely represented by the on-line format but also the one that appears in print. It is still one of the most accessible knowledge and information sources that literally anyone can reach.
Contemporary magazines are distinguished by a wealth of photographs and illustrations, which, as assumed, are to be a supplement for the text. Their presence is to draw the readers' attention and encourage them to stop and read a specific article. But is this the illustration's only function?
Before starting the work on the illustration, the artist gets to know the text, the specific story, the topic of the article / issue so that the resulting creation presented to the readers would make them reach for it willingly. Does this mode of work make it possible for the artist to illustrate the text – often on a difficult subject – completely ignoring it? Is not the illustration, by its significance, beginning to match and complement the text, or even tends to outweigh it?
Looking for new illustrations, we have discovered that the artists, in seemingly simple and understandable works, add something from themselves, something beyond the text itself. They build their own intriguing metaphors. It often happens that an illustrator, involved in a subject, reveals a completely new context for the issue, thus revealing to the viewer a wide field for interpretation of the discussed topics.
We do not know if such a way of representation is in line with the current trend or fashion, or rather results from the need for a demanding recipient who is so difficult to be stopped and shown things that are not always pleasing to the eye or concern the everyday life.
Exhibition Involved in the text. The press illustration draws attention to the problem of the boundaries of literalness and highlights significance of the illustrations in the magazines, including the emphasis on the work of the artists who are obliged to collaborate with the content of the article from which they derive their eponymous involvement. The exhibition characterizes the contemporary Polish press illustration, which is not only utilitarian, but is also equivalent to other fields of art and very often bears marks of social involvement. At the exhibition, we are presenting the works by 47 Polish illustrators from the major press publications, including a quarterly for children. Involved… is an extensive exhibition project, the first edition of which took place at the Design Institute in Kielce in 2017.
curators: Katarzyna Bartnik, Urszula Dudek, Dominika Janicka
exhibition architect: Dominika Janicka
visual communication: Patrycja Podkościelny
co-organizer: Instytut Dizajnu w Kielcach
media patronage: Charaktery, Enter the ROOM x G'rls ROOM, Zoom, Kurier Lubelski
cooperation: Charaktery, Duży Format, Enter the ROOM x G'rls ROOM, Newsweek, Pismo. Magazyn Opinii, Trzy Czte Ry, Wysokie Obcasy, Miesięcznik ZNAK, Zwierciadło