Alicja Czernecka-Mikrut, Marek Horwat, Andrzej Juszczyk, Lila Kalinowska and Students of the Faculty of Art of the University of Rzeszów: Paulina Dębosz, Bartosz Fic, Paweł Granatowski, Patrycja Ochała, Piotr Różycki
Opening: 13.05.2011, opening hour: 18.00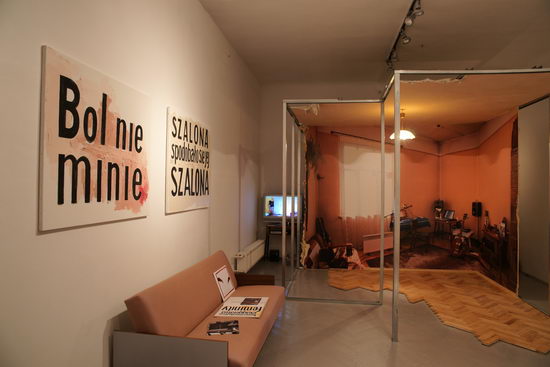 "Life and Style" is an exhibition about art and everyday life, or the way you look at life and the way you look. To make it more objective and/or attractive I have asked a couple of friends for their reflections and/or impressions on the subject.
Jadwiga Sawicka (born 1959, an artist from Przemyśl) – a couple of paintings with grotesquely-joyless theme. The experiment she had in mind while preparing this exhibition observes the relations between the paintings and other works (and imagining that the paintings set the overall tone).
Alicja Czernecka-Mikrut (born 1957, painter, works also in the field of photography and film; lives in Przemyśl) – two documentaries ("My own Place" and "Janek the Butterflies Guy") about two unknown and exotic unprofessional artists.
Marek Horwat (born 1947, lives in Przemyśl) – photo-books "Stories" and "Other Stories", interiors' photographs and visuals, juxtaposing different aesthetics of similar emotional intensity.
Andrzej Juszczyk (born 1972, literary theorist, musician; lives in Przemyśl) – musical backround.
Lila Kalinowska (born 1981, works as an interior designer; lives in Przemyśl) – pseudo-spaces resulting from the paintings, exposing the interiors of a home and showing how the style influences the life.
Students of the Faculty of Art of the University of Rzeszów:
Paulina Dębosz – decorating performance,
Patrycja Ochała – book "Illustrations", drawing and graphic performance,
Paweł Granatowski – film "Metamorphosis", computer game, music performance, graphic decorations,
Bartosz Fic – music performance,
Piotr Różycki – music performance.
Is your couch your means of expression? Do you express yourself with the colour of your curtains? When you chose your wallpaper, did you do it to reveal something really personal to the outside world? Do you wear what you preach? If yes, it means that your emotions, thoughts and desires want to take on a material form, they want be seen.
But you have to change the means of expression; the one you chose will fail you.
Fashion trends, peer pressure and circumstances beyond our control (furniture you inherited, vases you received as gifts, the terror of sentimental souvenirs and limited financial resources) may cause you will find yourself living in a conflict. You will discover that the way you and your surroundings look, send a different message about your thoughts and emotions to the outside world that you intended. You need art to express your feelings and thoughts.
To put it simply, do not buy a painting because it matches your curtains. Chose a couch that matches the painting and let the music you listen to shape your style. Let your favourite books help you make your life decisions as well as chose the colour of your bathroom tiles.
Beware: Consequent following of the above rules might scare you. But it's worth the risk, isn't it?
Jadwiga Sawicka