Opening: 12.02.2016, opening hour: 18.00
Open until: 24.03.2016, opening hours: Mon.-Sat. 12.00-18.00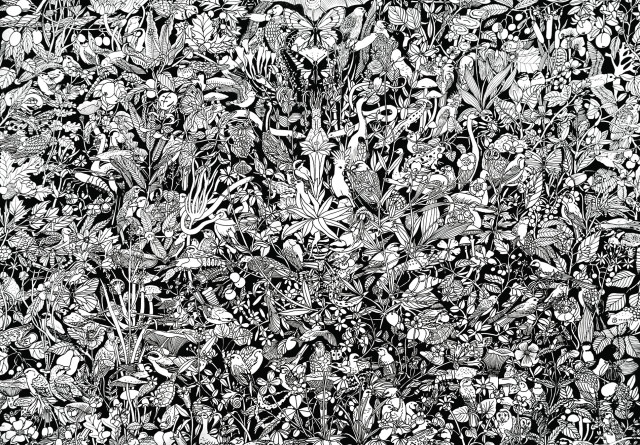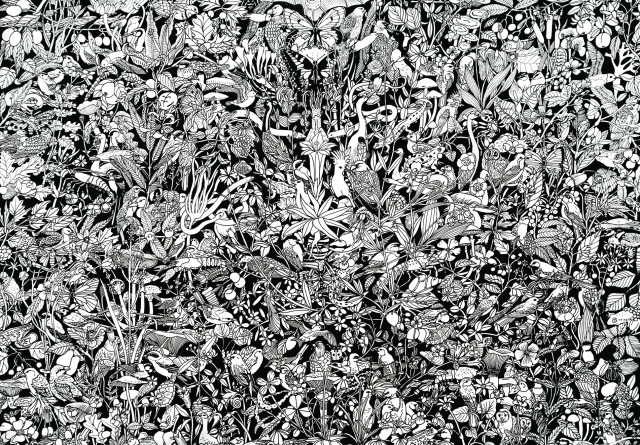 Mariusz Tarkawian appeared at the Biała Gallery in 2005. As a first-year student of Art Education at the Faculty of Arts of the Maria Skłodowska-Curie University in Lublin, he volunteered to assist in mounting the exhibition Nova Biała.
SALA PODWÓJNA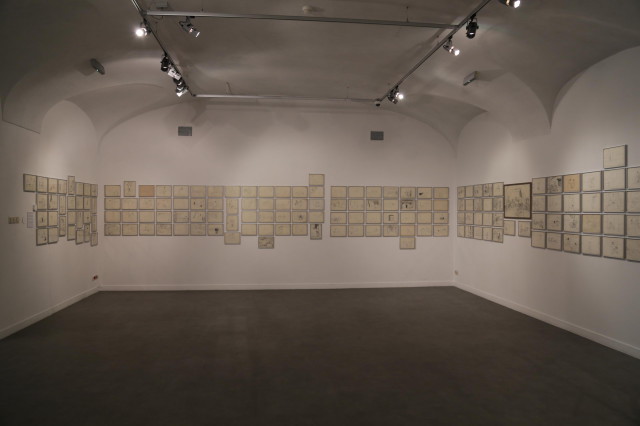 During preparations for this largest display of art by artists from Lublin in the history of the gallery, he would draw and note down what artists and other volunteers were saying. As a result, first Peeped Drawings were created, turning into Tarkawian's debut series, as they were included in the said exhibition. Until March 2006, Tarkawian would work as a sort of chronicler of the Biała Gallery, ending up with his first collection of over two hundred drawings that became an original visual record of events taking place at the gallery. Next to drawings from the exhibition Nova Biała, the series included works created during other shows, namely: Experimental Anatomy Studio by Robert Kuśmirowski, Percipere by Eliza Galey, In Today's and Yesterday's Press by Anna Nawrot, as well as during exhibitions by Leon Tarasewicz and Bogna Burska.
One drawing from the series was made by Robert Kuśmirowski.
By presenting these works again after ten years, we wanted to remind viewers of Mariusz Tarkawian's artistic debut.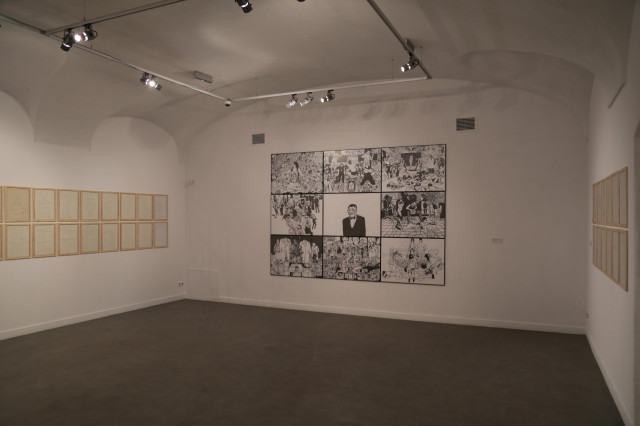 Manhattan Gallery is a series of drawings that Mariusz Tarkawian made as a tribute to this well-known contemporary art gallery from Łódź. Based on archival photographs, he created a tangle of drawings depicting a collection of works and artifacts.
This series was first presented at the Manhattan Gallery in 2015.
Contemporary Art Book, 2009
A comic book consisting of sixty-eight drawings depicting various contemporary art pieces from Poland and abroad, and accompanied by a list of works used in the book, including names, titles, and years the originals were created.
Open between 2003 and 2009, Centrala Club was housed in the building belonging to the Center for Culture. It was one of few clubs in Lublin with ambitious, artistic vision, known for playing most extreme genres of contemporary electronic music. Centrala was frequented by young artists from the fields of music, theater and visual arts. One of them was Mariusz Tarkawian, who kept a visual record of numerous events he took part in between 2006 and 2009. We present only few works from this collection of over one hundred and thirty drawings.
SALA DŁUGA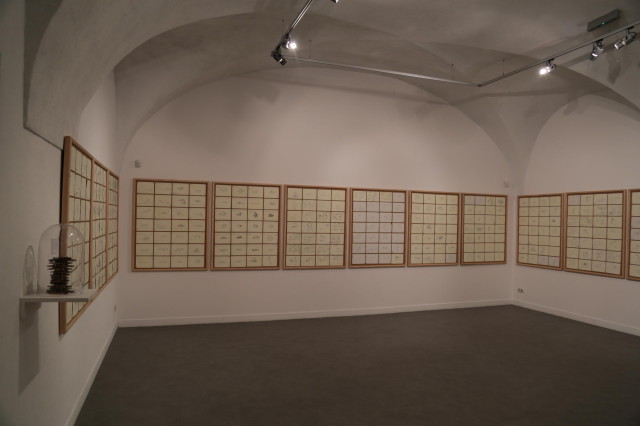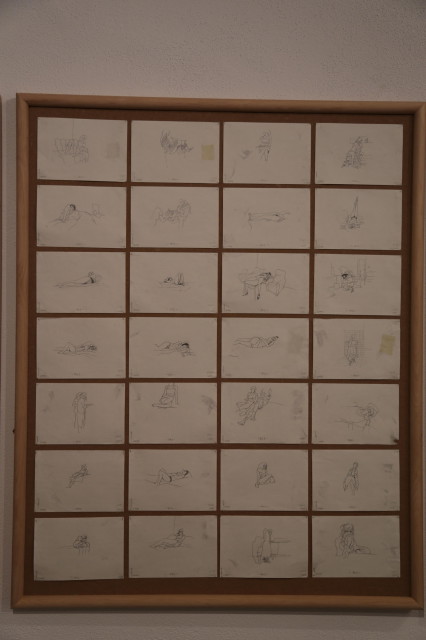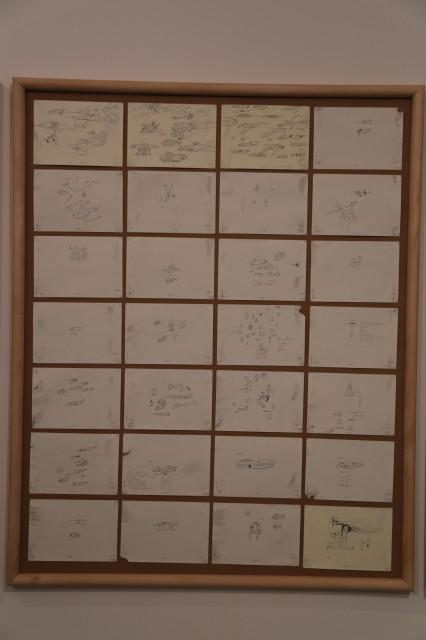 Time Regained is Tarkawian's diploma project from 2009, prepared in the Drawing Studio of prof. Jan Gryka at the Faculty of Arts of the Maria Skłodowska-Curie University in Lublin.
Mariusz Tarkawian wrote about this project: I am making drawing copies all works that I have made until this day. Some of them I am recreating from memory as they went missing. […] I want to summarize the time I devoted to drawing and, subconsciously, I am trying to prove that it was not the time wasted…
[…] when and why is a drawing perceived as a work of art? What makes it art and what conditions should be met for this to occur?
KORYTARZ
In 2007-2009, Mariusz Tarkawian created one of his most extensive projects History of Art and Civilization Test. It was a monumental fifty-meter-long mural drawn in the corridor of the abandoned wing of the Center for Culture in Lublin. The piece was destroyed during building renovation a few years ago.
Based on the catalog published by the Biała Gallery, the artist recreated part of that work.
PATIO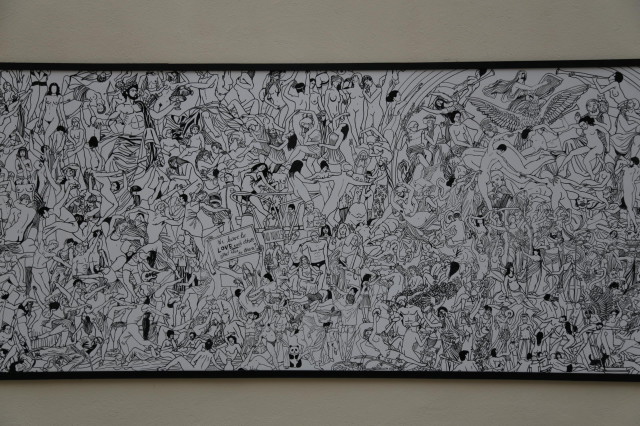 First version of this work, titled Peace, was presented at the exhibition War and Peace at the Labirynt Gallery in Lublin in 2015.
The one shown here was completed by the artist while mounting this exhibition.

Tribute to Araki, 2015
Mariusz Tarkawian took his inspiration from works of Nobuyoshi Araki, a world-renowned Japanese photographer, the author of over four hundred photography books. His bold nudes have their source in rich Japanese tradition of erotic representation.
Gift, 2016
Another version of Mariusz Tarkawian's developing project depicting flora and fauna.
SALA DOLNA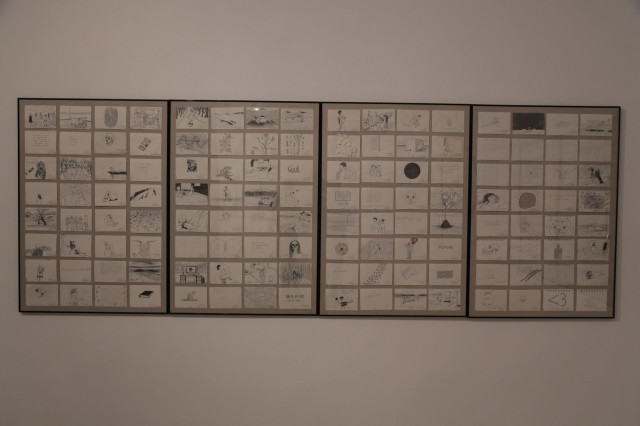 Mariusz Tarkawian is a keen and careful observer of the world of art, hence his artistic oeuvre that consists of numerous series including hundreds or even thousands of works. They are all meticulously counted and described by him. Tarkawian's first inspiration derives from his fascination with art, both Polish and global, traditional and contemporary, and even with that from the future.
Looking for Art is an ongoing project that the artist began in 2006 and continues to date. It consists of over two thousand three hundred works. At the exhibition we present original pieces along with some replicas of drawings that can be found in various collections in Poland and abroad. These replicas were made in 2016. The series has never been shown on such a large scale.
Anticipation of Art is yet another ongoing project by Tarkawian, the beginning of which dates back to 2008 and which continues to date. Based on artistic oeuvre of selected artists, Tarkawian draws his imaginary, futuristic visions of their future works. At the exhibition we present only part of the series.