Opening: 22.03.2019, opening hour: 18.00
Open until: 17.04.2019, opening hours: TUE-SAT 12.00-18.00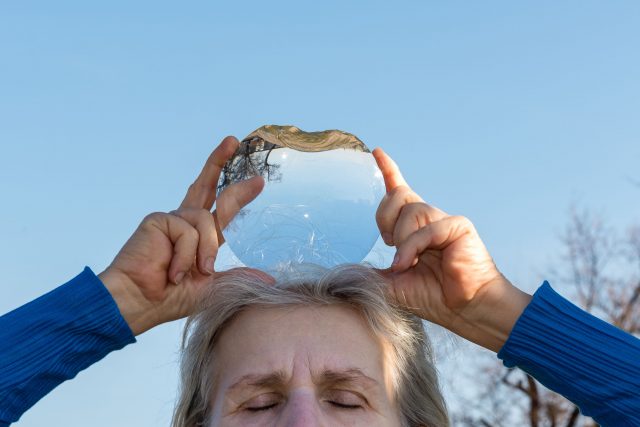 The air is something that can not be seen, but without it we can not exist.
Sometimes it is smooth and shiny like a glass
Sometimes dense and sticky
Sometimes wrinkled runs up
And sometimes it is unbearable
Sometimes it takes our breath away
Sometimes it lets you breathe freely
I'm holding on to that air
This poetic and author's description of the exhibition shows how the work of Anna Płotnicka still amazes with its consistency. The essence of her over 30 years of artistic practice, is the relationship with another man and metaphysical work with the following notions of: the visible – invisible, existing – non-existent reality, the future – the past, the personal history – the general history.
In Biała Gallery, Anna Płotnicka appeared for the first time on the occasion of the women's exhibition entitled Wieża Bab in 1985. Since then, the artist has been actively participating in Polish (and international) artistic stage. This reunion, after 34 years, is a symbolic return to the beginning, when her performance entitled Balans when she used a sheet of glass took place. Later, it turned out that this performance was prophetic for her later artistic experience. Closeness, presence, bonds between people and past times are the main subject of Anna Płotnicka's reflection on life. Objects and simple gestures generate an existential, personal message, which creates a universal relation between the artist and the viewer.
The exhibition presents a broad spectrum of her artistic activity from the last 4 years. Objects, photographies, texts and films are all inspired by performative actions of the artist and are so closely related to her that it is impossible to ignore them.
A warm wall encourages to touch, house models and dog fur enliven memories, symbolic named – the metaphysical notion of the word 'unnamed' appears in all spaces of the Biała Gallery.
Anna Płotnicka (born 1956, Wrocław) – a graduate of the Faculty of Painting, Graphic Arts and Sculpture of the Academy of Fine Arts (formerly PWSSP) in Wrocław, she graduated in 1980 in the studio of prof. Jan Jaromir Aleksiun. She participated in many shows of women's art, including Obecność (Galeria ON, Poznań 1987), Kobieta o kobiecie (BWA Bielsko-Biała, 1996). She is also a curator of exhibitions, such as Zamieszkanie (Galeria Motorenhalle in Dresden 2006 and BWA in Wrocław 2007) and the series of exhibitions Krzątanina (Galeria BWA Awangarda, Wrocław). Scholarship holder of the Copernicus Foundation (Germany 2005) and CEAAC / WRO (France 2008). Płotnicka's works are in the collections of the Society of Friends of Fine Arts "Zachęta", the National Museum in Wrocław, the National Museum in Warsaw, the Labirynt Gallery in Lublin and private collections, and were exhibited, among others, in New York, Eindhoven, Warsaw, Kraków and Wrocław.