Opening: 22.06.2012, opening hour: 18.00
Open until: 27.07.2012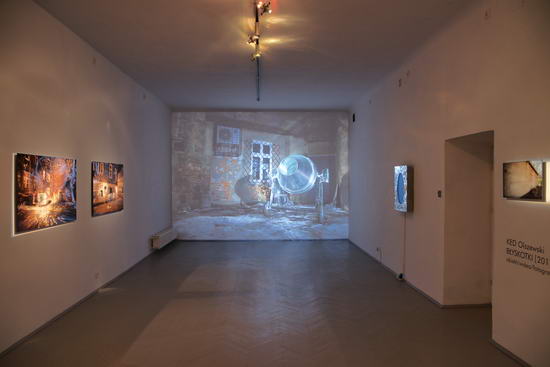 A storm drain grate, a tyre halfway in the ground, a bicycle stand, a birdhouse, a rubbish bin, a toilet, an advertising pillar, a cement mixer, an old Volkswagen Beetle … Every day objects that we all know, "useful objects", sometimes visibly worn-out, considered to be of "lower rank". We use them and take them for granted. We do not care to notice them in their unattractiveness.
Ked Olszewski takes their side and ennobles them by making them works of art. He makes them stand out, polished and glittering with "pixels" – small pieces of mirrors that turn those objects into "Trinkets". However, the artist does not simply declare them "pieces of art" nor does he resort to the Duchamp's gesture and simply places them inside a gallery, not all of them anyway. After the metamorphosis he leaves most of the "Trinkets" exactly where he found them. The artistic act is limited to picking the ones that will be dressed up in a sparkling costume resembling the twinkling lights of a disco-ball and then photographed, most probably in the night scenery. Only some of the "Trinkets", like the toilet or the cement mixer, found their home in a gallery. The rest can be admired as works of arts and objects of large format photography or video recordings. What is more, the author turned himself into a "Trinket" too. We see him on a sculpting table in a shiny costume. His transformation combining live sculpture and performance was filmed. Performance is for Ked Olszewski an important form of his artistic expression, which was most evident in "Exhibition and Unwanted Furniture" (2007). The artist started the project entitled "Trinkets" a year ago and has already visited the National Museum in Szczecin, the Wschodnia Gallery in Łódź and the Centre of Polish Sculpture in Orońsko. The exhibition at the Biała Gallery presents most of the objects created so far. Within the Gallery's space we will see over a dozen of large format photographs documenting the existing "Trinkets", two films: a recording of the abovementioned video performance and a piece presenting the spinning cement mixer. There will also be one object: the toilet. The Lublin exhibition will also proudly present a custom made installation in situ on the Art Yard – a sparkling dish antenna.
(…) Respecting the postulates of modern ecology Ked Olszewski refuses to introduce new objects into the art world, he refrains from the traditional form of "creation" and therefore, he does not litter. He recycles both objects and words, turns them into artefacts, gives them new meanings, creates situations, and reveals new contexts.
While working on the project "Trinkets" he refrained to small yet artistically valid gestures, "sparkling" interventions. He leaves most of the objects where he found them, like the storm drain grate and the birdhouse. The performance, in which he turns himself into a "Trinket" also promotes recycling. He does not engage any models; neither does he create a new sculpture, a new work of art. The artistic life of "Trinkets" is limited to documenting the objects on photographs or film. By this means Ked Olszewski, apart practicing artistic ecology, refers to the tradition of conceptual art…
It's good to sparkle.
Lena Wicherkiewicz
in May 2012
___
Ked Olszewski (born 1970) visual artist working in the field of ready made and redesign, dealing with the problem of overproduction, over-consumption or fast degradation of things. 
He graduated from the Faculty of Multimedia Communication at the Academy of Fine Arts in Poznań, he also has a PhD in Photography obtained at the Film School in Łódź. In 2009 he received the artistic scholarship from the City of Szczecin. He works as a curator at the 13 Muz Gallery of Art in Szczecin. He founded and currently runs the International Festival of Visual Arts "inSPIRACJE". 
Ked Olszewski's most important projects are: Special Case (2004), Made in Poland (2005),Memorials of Nature (2006), Exhibition and Unwanted Furniture (2007), Podniesienie (2008-2009), PROJECT 33/22 (2003-2005), "Trinkets" (2011-2012).