Opening: 19.10.2012, opening hour: 18.00
Open until: 9.11.2012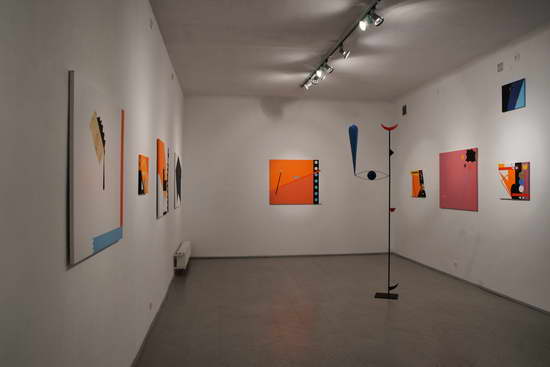 In Painting's Defence. Some Thoughts on Mariusz Kruk's Painting.
Painting has been pronounced dead countless times. It started shortly after the discovery of photography as far as in the 19th century. Demanding painting skills seemed liked an anachronism already then, in the times of ground-breaking inventions. In the 60s the death of painting was declared once more. The catastrophic slogans were repeatedly coming back while the new media was conquering art galleries and the consciousness of contemporary art audience …
And yet, there it is, alive! Pulsating, charming, hypnotising. The art of painting has survived. Some think that to justify its continuation painters and their works should become more socially involved, but Mariusz Kruk refuses to follow this advice. He avoids any form of commenting reality, because it deprives creation of its independence, purity and timelessness…
Instead of getting involved in social issues, Mariusz Kruk's fills his paintings with metaphysics, therefore, makes them impossible to be described in words. They do reflect reality, but present a subjective vision of it conveyed through synthetic forms. The artists would not describe his art as abstract. He treats it as a philosophical explanation of life.
Kruk often uses symbolic shapes, shiny elements or outlines (for example of birds). He carefully, if not cautiously, plans his works and paints with a lot attention. Because his works are attractive to the eye, some say they only have decorative value… However, it is not something Mariusz Kruk seems to worry about. He walks the path he once took, trusts his intuition and relies on the independence of his own vision.
He went through different periods in his artistic career. Looking at his paintings from the beginning of the 21st century, we might feel overwhelmed by vivid, baroque-style forms, we could get intoxicated with the rich palette of colours, get lost in the maze of lines, stains and signs. Also in the first decade of the century he created paintings that were more modest and geometrical. For some time now we have been observing his increasing interest in minimalism and therefore, some of his works are very ascetic. They seem to be more balanced and reserved. This does not mean they convey less. They simply do it in a different way.
In their stylistics, or rather their sensitivity, the works presented in the Biała Gallery resemble the ones of Russian constructivists. They look like painted parables. Just like his short literary forms (Kruk writes characteristic and original aphorisms), his paintings are full of visual hints and allusions…
He used to juggle with various elements. Now he selects them, organises them into groups, constructing works more mysterious, symbolic and demanding more reflection from the audience. He made his debut in the 80s and with time developed as the artists. His paintings went trough transformations, but they all have one thing in common. They defended painting as a medium. They praised artistic creation, creative freedom and independence. Sometimes they played many sounds like an orchestra, other times they whispered poems, but they were always created out of deep faith in art and an optimistic assumption that it is art, where anything is possible…