WITH ROBERT KUŚMIROWSKI
Opening: 3.06.2016, opening hour: 18.00
Open until: 22.07.2016, opening hours: Mon.-Sat. 12.00-18.00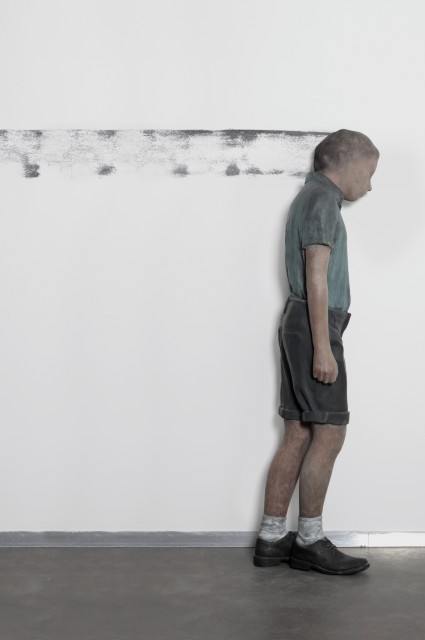 My first encounter with Sofie Muller's art I owe to Mieke Dus and Paul Sochacki, who took me to her exhibition Black-Out presented at the C-mine Cultuur Centrum, as part of the Manifesta 9 in Genk in 2012.
The artist's works had been carefully arranged in a unique exhibition space which used to be a coal mine. Monumental industrial architecture with original mining equipment, rooms, decks, and floors, along with a mine shaft and a tower dominating the building, created an amazing setting for Sofie Muller's art. The exhibition featured a broad range of works from the artist's oeuvre, including: patinated bronze sculptures depicting children – Clarysse, Oscar, Jonas and Tristan – beset with anguish, a closed object – The Closet – gushing red liquid resembling blood, or the video – Barbara – showing the burning of a statue of Saint Barbara, the patron saint of miners. A big part of the exhibition were drawings made with blood and black soot.
That was where Jan Gryka decided to show Muller's work at the Biała Gallery.
All the artist's works have strong psychological impact which triggers associations with traumatic childhood memories, feelings of sadness, loss, pain, shame, illness, disability, unfulfillment, closely guarded secrets or fear of adolescence. Sofie Muller reaches out to an individual and their emotional state in difficult psychical and social relations.
She invites viewers to reflect upon complex existential issues concerning loneliness, body manipulation, concepts of freedom and autonomy of every human being. Her works allow us to feel that sorrow and tension, and to liberate our emotions, thoughts and empathy, providing an ample scope for personal engagement and emotional involvement.
The exhibition Mental Sculptures includes sculptures, drawings, objects, a video and some new works in alabaster that Muller created for the purpose of the show in Lublin.
For her exhibition at the Biała Gallery, Muller invited Robert Kuśmirowski, the artist known not only to the Polish audience. We are going to show his installation Träumgutstraße, first presented at the exhibition at the Salon Akademii in Warsaw in 2014. The work was also shown at the Johen Galerie in Berlin in 2015.
What those two artists of the same generation have in common are their unique approach to the past and childhood as well as similar reflection on the process of objects being used, examined from different anthropological perspectives. Both Muller and Kuśmirowski refer to art history and its context, as well as to material culture. They also experiment with various forms, conventions and techniques.
I have the pleasure to invite you to the Biała Gallery to witness this spectacular encounter of the two artists.
The exhibition also includes a video by Urszula Pieregończuk. In the corridor you can see Mariusz Tarkawian's Art History and Civilization Test with some new drawings.
 Anna Nawrot