Opening: 26.05.2010, opening hour: 18.00
Open until: 18.06.2010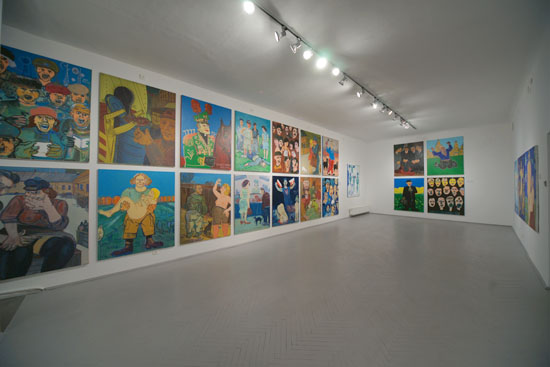 Edward Dwurnik's exhibition at the Biała Gallery presents oil paintings from Sportsmen (Series XV 1972 – 1999) and Second Part of the Series Sportsmen cont. 1997 – 2010.
Both series consist of more than three hundred works.
Other series of works by this artist are: The Way, Plaster Plein-air, Clouds, Moment, Paris, Hitch-hiking Travels, Cross, Warsaw, Passions, Diploma, Portrait, Workers, Sławoszyno, Newspaper, The Way to the East, From December to June, Long Live the War!, Blue, Romantics, Large Paintings, Counting, Twenty-Third, Plein-air, Twenty-Fifth
The total number of Dwurnik's paintings is impressive. If each of the series consists of from a couple of dozens up to a thousand (Hitch-hiking Travels) works, then it can easily be counted that he created more than three thousand paintings! The artist is very precise at numbering them.
Edward Dwurnik has been depicting and commenting Polish reality for 35 years now. Series XV – Sportowcy/Sportsmen presents Poland in the times of communism and hundreds of scenes involving people living on the margins of society. The title refers to the cheapest brand of unfiltered cigarettes that were very popular at that time despite their characteristic bad smell.
His way of portraying various types of human behaviour in the social context is very expressive and straightforward. Most people he portrayed were anonymous, however, sometimes he painted also public figures. It is very interesting to see his older (coming from the 70s) and recent portraits of people who we often see on TV or in the tabloids.
From the collection of Dwurnik's works, gathered for several dozen of years, we learn about history, we learn how our country's society, culture and politics have changed over all those years and how, on the other hand, our behaviour remains unchanged.
Edward Dwurnik's painting is surprising and fascinating in its form, a phenomenon worth noting in Polish art. It may be seen as an unusual chronicle of the social aspect of our existence. We can see some differences in his paintings from the times of communism and contemporary Poland, but one thing stays the same, they faithfully depict the reality of their times.
Edward Dwurnik (born 1943) graduated from the Fine Arts Academy in Warsaw.
Some of his individual exhibitions took place in Warsaw: at the Współczesna Gallery (1971), Kordegarda (1977), Centre for Contemporary Art Ujazdowski Castle (1990), Studio Gallery (1999), Zachęta Gallery (2001), Rozmaitości Theatre Gallery, Program Gallery, Raster Gallery (2003), Gallery of Graphics and Poster (2005) and Milano Gallery (2009); in Krakow: at Zderzak Gallery (1992-94), Bunkier Sztuki and Potocka Gallery (2005), Artemis Gallery (2004 and 2006), Stedelijk Van Abbemuseum in Eindhoven and Asperger & Bischoff Gallery Inc in Chicago (1985), at Kunstverein in Lingen (1986), at the National Museum in Wrocław and Benjamin Rhodes Gallery in London (1987), District Museum in Bydgoszcz (1989 and 1997), at Płock Art Gallery (1998), at Górnośląskie Museum in Bytom (1993), at Württembergischer Kunstverein in Stuttgart (1994), at the National Gallery of Art in Sopot and Łaźnia Centre for Contemporary Art in Gdańsk (1999), at Galerie k9 aktuelle Kunst in Hannover (2004 and 2006) at Arsenał Gallery in Poznań, at Nevin Kelly Gallery in Washington and Katholisches Stadthaus in Wuppertal (2004); in Berlin: at Walter Bischoff Galerie (2006) and at Galerie – Pankow (2007), at the Pomeranian Dukes' Castle in Szczecin (2007), BWA Gallery and Galeria Nowych Mediów in Gorzów Wielkopolski (2008).
He took part in many group exhibitions in Poland and around the world, among others: at Polnische Kunst Heute in Darmstadt (1977), at Documenta 7 in Kassel (1982), The Fifth Biennale in Sydney (1984), Nouvelle Biennale in Paris (1985), Europa / Amerika at Museum Ludwig in Köln and "Radical Realism – Concrete Abstraction", National Museum, Warsaw (1986), at XIX Bienal Internacional de Arte in Sao Paulo (1987), Raj utracony at Centre for Contemporary Art Ujazdowski Castle in Warsaw (1990), Emanuel Hoffmann-Stiftung 1980-1990 at Museum für Gegenwartskunst in Basel (1991), Der Riss im Raum at Martin-Gropius-Bau in Berlin (1994), Art from Poland 1945-1996 at Museum of Fine Arts in Budapest (1997), Fragment Kolekcji 3 at Zachęta Gallery in Warsaw (1998), Aspekte/Positionen at Muzeum Ludwig in Vienna (1999) and Uważaj wychodząc z własnych snów możesz znaleźć się w cudzych at Zachęta Gallery in Warsaw (2000).
Dwurnik's works are in the collections of various museums in Poland, Europe and the USA.
He was awarded, among others, with a Culture Award from the Underground Opposition Movement "Solidarność" in 1983 and Award of the Coutts & Co. International Private Banking Contemporary Art Foundation, Zurich, Switzerland in 1992.
He lives and works in Warsaw.
The Biała Gallery is presenting Dwurnik's works for the third time. In 2003 they were part of the exhibition of the new series, abstract painting, and in 2008 his paintings were exhibited together with the works of the most famous self-taught painter, Nikofor (exhibition of paintings of towns).
The exhibition of Edward Dwurnik's paintings was organized as part of the series of exhibitions celebrating the jubilee of 25 years of the Biała Gallery.