Open until: 20.09.2014, opening hours: Tue-Sat 12.00-18.00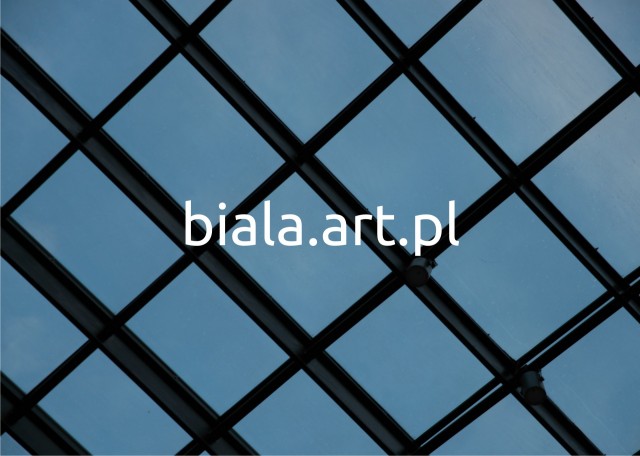 text: Sylwia Hejno
biographical notes: Katarzyna Bartnik
---
Jan Gryka / Second-Hand Paintings

Wafting through the long bright corridor of the gallery, an undefined sugary smell fills the air. It intensifies near paintings covered with white substance. Even though fragments of silhouettes or landscapes peep out coyly here and there, it is difficult to say what is underneath the coat of flour paste spread over the paintings surface. All these works – regardless of their price, style, authorship or quality – have been immersed in the sea of white dough. The gluey paste, which set on the corridor walls, not only has brought true egalitarianism to this space, but also has become the leitmotiv itself.
All the title Second-Hand Paintings were either found in second-hand shops or were presented during previous exhibitions. However, it is not their past that counts but their future, as the most important is yet to come. The paintings in question are going to change over time, similarly to the corridor, which was banned from being cleaned. When the wheat crust falls off or when it is devoured by grain weevils, old reproductions hidden underneath will moult of this peculiar cuticle and come back to life again.
By using perishable mixture of flour and water, the artist brings to light the elusiveness and ephemerality of his work, which is focused not on the object itself but on its life, its transience and evanescence. The fact that the artist's work is doomed to be destroyed by the shameless "art bugs" is also symbolic.
All that is considered to represent high culture becomes food – bread. The gradual process of disintegration and death of the flour paste changes it into the flesh and makes it a part of corporeality, while the works hidden underneath diminish in importance. Therefore, the act of covering the paintings with dough allows the artist to distance himself from what art, objects and exhibitions actually are.
Jan Gryka (b. 1959) graduated from the MCSU Institute of Art Education in Lublin in 1983, with the diploma in painting under prof. Marian Stelmasik. He works at the MCSU Institute of Fine Arts and runs the Biała Gallery together with Anna Nawrot. By using flour in his work – sometimes mixed with water, egg whites, dust or sand – Gryka stresses the processual and impermanent nature of artistic activity. As the flour undergoes further processing, it transforms into new forms of art. Over time, the substance disintegrates, fades away, perishes or is eaten by small creatures called "art bugs", such as grain weevils, which infest flour particles and change their form. Gryka's installations are both beautiful and meticulously done. Sprinkling the flour becomes an act through which the artist not only covers but also uncovers the meaning and visuality of his works. He lives and works in Lublin.
---
Robert Kuśmirowski / Poly-Vi/Déja-Vu

Measurable and consistent passage of time allows us to keep track of reality, to have a grasp of what has already happened and what is yet unknown. When we lose touch with what is real, we may feel a bit dizzy. The phenomenon of déjà vu – a harmless momentary madness that everyone has experienced at least one in their lifetime – traps us in a time loop and makes us wonder whether what is currently happening has already happened before. The unsettling and inexplicable familiarity with the new situation raises certain doubts as to the reliability of our senses and a good judgement.
A wooden display cabinet filled with a bunch of bizarre mismatched junk is far from standing out. Just like the monotony of a grey pavement, the ordinary cabinet – along with its contents – seems to be invisible, until we see it for the second, third and fourth time… Then we realize that the light-headedness we are experiencing, caused by the peculiar feeling of déjà vu, has been carefully and cleverly staged by the artist. Suddenly, all the details – flasks, bread, rosary, banknotes, cross, even the "Diana" eyeliner – start to make sense and gain an immense significance, as if giving us guarantee that we are not wrong in our perception of reality.
Quick look at the previous cabinet and then at the next one. Everything seems to be similar, the contents is the same, but there is still something different, something is wrong… This is how the artist, often called "the forger of reality", invites us to play with our memory (hint: the devil's in the detail)
Robert Kuśmirowski (b. 1973) graduated from the MCSU Institute of Fine Arts in Lublin in 2003, with the diploma in sculpture under prof. Sławomir Mieleszko. Kuśmirowski also works at the MCSU Faculty of Arts. He is the author of installations, objects, photography and drawings. His works are often a perfect example of artistic mystification. He is considered to be the "forger" of time, matter and space. He turns memories, thoughts and dreams into permanent traces. By interspersing his installations with fake objects, he plays games with the viewers and either creates fictional situations or establishes entirely new art spaces, blurring the boundaries between the real and the fake, between the past and the present, between what art is and what may be perceived as such.
---
Paulina Kara / Movement

Paulina Kara's miniature figurines allow viewers to peek into the theatre of street life. The artist casts a critical eye over various human types – a jaded prostitute, sleeping drunkards, a group of men ready to settle their heated dispute with a fist fight, a newsagent eying us suspiciously, while looking out behind the break-time sign, or an enormous female owner of a tiny ratter. All these characters seem to have frozen for a moment amidst their daily routine. A little girl clinging to a doll is staring, mesmerized, at a mysterious man who also has a doll tucked under his arm, although his toy is inflatable…There is also an old couple strolling along and a hobo crouching behind the newsagent's. The cigarette is burning out in his mouth, his eyelids are drooping, he is about to fall asleep.
The artist portrays her characters with pungent irony, but at the same time she treats them with care and affection. All her dolls are different, they have individual facial expressions, body types, clothes, hairstyles and shoes. The newsagent is selling toy-cars, newspapers and hard fruit candies. There are microscopic cigarette butts in a tiny trash can. The miniature of a street captured in the moment becomes the grounds for sociological observation allowing us to notice amusing details and absurdities of life that usually escape our attention. The title "movement" refers to the movement in the street, to everyday hustle and bustle, the epicentre of which is an inconspicuous spray-painted newsagent's. The sour-face curvaceous woman working there is the only one remaining still at her post, while street life goes on. Without being noticed, she is scanning the surroundings as if she was an omniscient goddess of our times.
Paulina Kara (b. 1981) graduated from the MCSU Institute of Fine Arts in 2006, with the diploma under prof. Jacek Wojciechowski. Her work includes installations in the form of spatial arrangements in which she presents her dolls – miniature figurines that she uses to touch upon various social problems and to make critical comments about the surrounding reality. Kara uses exhibit rooms to create characteristic tableaux with her dolls made from clay, modelling clay, paper, fabric and plastic. In a perverse way, she refers to the most recent social debates raging in Poland, including debates on introducing school uniforms, procreation, mixing religion and politics, political correctness or on public morals. The miniature scale enables the artist to distance herself from these issues and to reflect upon them both ironically and pointedly. She lives and works in Nisko.
---
Konrad Maciejewicz / Selfportrait with daddy, Untitled

Maciejewicz's collages immediately surprise the viewers, not only with the precision they were made but also with uniqueness of artist's imagination. They owe their faded retro colours to old women's magazines they were cut out from, and if we inspect them in greater details, we will be able to recognize fragments of hair or clothing. With a perverse and unfettered fantasy, Konrad Maciejewicz transforms women's manuals on how to be beautiful or how to take care of the household.
Maciejewicz's works prove that art can be both beautiful and horrifying at the same time. By physically abusing and cutting up the bodies of his characters, the artist permeates human physiology and corporeality. The result of this practice is his first work – a woman's head placed on a worm-shaped body with no beginning and no end point. The tangle of all the twisted elements that have their own life may cause goose bumps, mainly, however, due to the viewers' imagination, since the "atrocity" of all the artist's works is based on suggestion rather than on literalism. In fact, Maciejewicz's images of terror are fascinating and resemble meticulously made ornaments.
Similar elements can be found in the next two works, which function as each other's variations. They can serve as an example of how the artist evokes ambivalent feelings and provokes our imagination. We are not sure whether the odd forms represent amputated fingers or maybe they are something else. We also wonder if a similar, grotesque but at the same time incredibly aesthetic theatre is taking place somewhere inside the protagonist of Self-Portrait with Daddy.
Konrad Maciejewicz (b. 1980) graduated from the MCSU Institute of Fine Arts in 2004, with the diploma in graphic arts. In 2013, he won the Polish edition of Henkel Art Award and got the third prize in the 41st Painting Biennale "Bielska Jesień 2013". Educated in painting and graphic arts, the artist works with collages, using photographs from Polish women's magazines from the 1960s, 70s, and 80s. He disintegrates original pictures in order to combine the pieces and create new images, evoking both curiosity and terror. He lives and works in Warsaw.
---
Tomasz Bielak / Trophies, Surreligion

Tomasz Bielak is known for his so-called art-squares – small graphic forms which he uses to make brief, humorous and critical comments on the absurdities of Polish political, social and religious reality. The works presented in the exhibition are an obvious reference to that activity.
Bielak is a commentator devoted to the cause. He tracks down various manifestations of stupidity, narrow-mindedness, hatred, idleness, incompetence and of many other national and more universal weaknesses. His works are based on paradoxes, absurd associations and humour, hence to understand them it is required to arm oneself with intelligence and full attention.
In this sense, the works Trophies and Surreligion function as the spatial expression of the artist's graphic ideas and visual journalism. However, they also gain new meanings and provide new contexts. Square frames contain ready-made objects which the artist transformed in such a way that they became more anonymous and open to interpretations. They seem to resemble small shrines, but it is unclear what the objects of worship are. Ascribing holy attributes to them seems to be debatable and it depends on a number of mundane and random circumstances. Juxtaposing the outline of devotional articles with hot-water bottles, and treating them with the same devotion and reverence, is not only nonsensical and amusing, but it also shows that these are, in fact, objects and ideas that are questionable.
Tomasz Bielak (b. 1967) – a painter, graphic designer and street artist. In 1995, he graduated from the Academy of Fine Arts in Gdańsk, where he studied under prof. Hugon Lasecki. He also studied in the temporary Interdisciplinary Studio of Robert Knuth. After graduation, Bielak along with Knuth and ZPAP (The Association of Polish Artists and Designers) opened the Delikatesy-Avantgarde Gallery in Gdańsk. He is also a member of an informal three-person Vincent van Gogh Painting Collective SAM, representing socially engaged critical art. He lives and works in Lublin.
---
Maja Kitajewska / Eden, The Perfect Drug, On Her Majesty's Secret Service

Gold stands for the sun and light, it is the symbol of divinity, invincibility and strength, but it is also the object of desire. Meanwhile, sequins that Maja Kitajewska uses in her works connote cheap glamour, tackiness and excessive decorativeness. It is easy to imagine how the slogans and logos embroidered on her works would glimmer on someone's T-shirt in a crowded disco. This is how the young artist plays with popular culture in her attempt to combine it with art.
Glistening and reflecting light, the glaring surface of the sequins immediately attracts our attention and irritates the eyes. Sequins become the symbol of everything that is glamorous, popular, superficial and desirable. Their shining surface not only acts as a mirror but it is also the source of light itself, just like neon lights, illuminated advertisements, LED displays, billboards, display windows, or bright and clear exhibit spaces. Their fight for the attention of passers-by is as aggressive and intrusive as the gleam of the sequins.
We encounter kitsch, childishness and gaudiness every day, and the fight for consumers is present in every aspect of life, including art. It turns out that in order to win new customers, it is enough to mask banality with trinkets. Instead of selling products, manufacturers trivialize our feelings and emotions by selling happiness, love, joie de vivre, youth and self-satisfaction. The two kissing skulls in Kitajewska's work may be interpreted as the mocking embodiment of this situation – the dead remnant of authenticity and the symbol of the last pirate ship drifting across the ocean of falsehood.
Maja Kitajewska (b. 1986) graduated with honours from the Warsaw Academy of Fine Arts, with the diploma in painting under prof. Wiesław Szamborski. She specialized in artistic textile under prof. Dorota Grynczel. Characteristic of her works are reflective surfaces celebrating lush richness of various meanings. The artist refers to the collective consciousness, persistently juxtaposing the world of fine art with popular culture. Full of sequins and embroideries, her works transcend banality and abound with hidden meanings. She lives and works in Warsaw.
---
Cezary Klimaszewski / BUD

"I laugh at people who call moviemaking an art and actors 'artists.' Rembrandt, Beethoven, Shakespeare and Rodin were artists," Marlon Brando once said. The American actor is not only an icon of the 20th century cinema, but he is also an inspiration for the artist from Lublin.
The title "Bud" refers to Marlon Brando's nickname, while the entire work by Klimaszewski has been inspired by films from the 1950s, 60s and 70s, starring the legendary actor. The ship from Morituri, agave leaves from Apocalypse Now and the scene taken directly from The Young Lions are all reflected in the artist's installation devoted to the actor and to his almost superhuman ability to create fiction, to play scenes and to perform the role of protagonists in such a way that they sink into the collective memory and start to live on their own. Movie props made by Klimaszewski with surgical precision match the variety of Brando's acting roles. The installation becomes a mini-museum of sorts.
Brando is not only the face of the cinema but also the representative of the 20th century. Three objects presented by Klimaszewski symbolically refer to the three decades of the actor's career. The selection made by the artist shows the dilemma between obligation and freedom, between fiction and life. Two military objects are accompanied by a living plant. Juxtaposing the non-organic with the organic – the result of human work with the creation of nature – triggers all kinds of associations. Marlon Brando is the hero that is both romantic and tragic, he is the epitome of our imagination and a human being, who – similarly to many protagonists he portrayed in his films – has been left at the mercy of external enslavement.
Cezary Klimaszewski (b. 1971) – graduated from the MCSU Institute of Fine Arts in 1997, with the diploma in graphic arts under prof. Artur Popek. Currently he works as an assistant professor in the MCSU Intermedia and Drawing Department. He is a co-founder of PSF (the Pavilion of Stable Form). His works include objects, such as the reconstruction of an armoured vehicle, architectural models, found footage movies and installations. He participated in numerous solo and group shows. He lives and works in Lublin.
---
Bartosz Kokosiński / Painting Devouring Robert Kuśmirowski

Paintings devouring reality by Bartosz Kokosiński are hungry. They abandon their frames in search of food, but it soon turns out that their voracious appetite is unbridled – they devour everything on their way. Exhausted, they crease and ruffle, swell and shrink, and yet, they still seem to be unsated as it is not easy to satisfy this kind of craving.
Kokosiński's ravenous painting dedicated to Robert Kuśmirowski is a peculiar tribute to his work, as well as an attempt to find common ground between the two artists (i.e. they both transform ready-made objects). Over various items taken from Kuśmirowski's storeroom and piled in a messy heap, a blue painting is bending. It is coming off the wall as it is starving. Distance between the works becomes dangerously small. The painting is about to plunge into the object of its craving to start a fight.
The painting in question cannot be satisfied with feeding on something meaningless. It needs another work of art – an object that is saturated with history and context. Interestingly, the act of devouring seems to be an inseparable part of art itself as art never ceases to explore or to absorb the new, letting the old serve as both an inspiration for next generations of artists and the source of creation. This hunger for meaning never stops. However, torn inside, tormented by indigestion and burdened by desires that push it towards different areas of art, Bartosz Kokosiński's voracious work will always remain itself – a painting.
Bartosz Kokosiński (b. 1984) graduated from the Kraków Academy of Fine Arts in 2009, with the diploma in painting under Andrzej Bednarczyk and Witold Stelmachniewicz. By combining rubbish and painting, he created the series Paintings Devouring Reality. His works also include videos and installations. He has received three scholarships from the Minister of Culture and National Heritage. He lives and works in Warsaw.
---
Karolina Komorowska / One And a Half Square Metres

In her work, Komorowska focuses on humdrum reality, on the seemingly most banal and boring part of existence. However, this perspective changes and the artist's work gains meaning when placed in the context of memories of the family home.
Depicting objects of everyday life on a scale of 1:1 becomes an act of sanctification. By releasing them from the tangle of meaninglessness, the artist emphasizes their subjective value. Similarly to flashbacks caused by Proust's madeleine, blue wall tiles trigger memories of the past and allow the artist to return to the home of her beloved grandparents.
Even though the original tiles have many identical counterparts, the long process of imitation – that requires a lot of precision – makes them important. As a result, copies assume proportions of art pieces. Artistic value of Komorowska's work is closely connected with its emotional value which makes the small blue tiles exceptional and unique.
Aside from intimacy and memories that pervade these blue images, it is impossible not to ask a question about the art itself, its boundaries and the significance of illusionism in painting.
Karolina Komorowska (b. 1981) graduated from the MCSU Institute of Fine Arts in 2007, with the diploma in painting under prof. Jacek Wojciechowski. She was granted the Rector's Award for her diploma. She also received an honourable mention during the 39th Painting Biennale "Bielska Jesień 2009". She debuted at the Biała Gallery in 2007, when she took part in a group show Transgression of Imagination. Her work could be described as "contemporary illusionistic painting". She works with plywood and MDF, using a scale of 1:1. She focuses on presenting everyday objects, including: cupboards, clocks, lacy tablecloths, destroyed mattresses, carpets, etc. She finds her inspiration at her grandparents' house. Therefore, the objects she depicts – often destroyed and worn away with age – are of a personal meaning and value to her and contribute to the meaning of the her art. She lives and works in Lublin.
---
Michał Chudzicki / Poltergeist

The series of works by Michał Chudzicki is an amusing interpretation of what it would be like if the ghost responsible for loud noises was not only captured and deposited in a specially-built equipment, but also posed patiently for a series of abstract portraits.
Poltergeist is believed to be a troublesome invisible spirit that can manifest its presence by destroying objects or moving them around. All ardent poltergeist hunters, who spend hours on constructing various ghost traps, would rub their hands with satisfaction if they learnt that this supernatural being was finally faithfully – in so far as possible – portrayed.
Michał Chudzicki loves hoax and deception, especially if he can combine artistic accomplishments with imagination. In one of his projects he brought to life an imaginary, recently discovered, brilliant artist of the interwar period, Bruno Larek, and created his non-existent works. Whether in this life or in the previous incarnation, Chudzicki has always been fascinated by inventions, parascience and phenomena between medicine and fantasy. Although the means of artistic expression changed, "experiment and play" – two words used by Chudzicki to describe Larek's/his own work – are still applicable to his art.
Michał Chudzicki (b. 1983) graduated from the Kraków Academy of Fine Arts in 2011, with the diploma under prof. Leszek Misiak. A co-founder of an artistic collective Roboczogodzina. In 2011, he made up a fictional artist, Bruno Larek, and created his non-existent works. Chudzicki's artistic strategy is inspired by Renaissance paintings, depicting anatomical images, and by quotations from the press archives that he uses to create visual and verbal collages – curio cabinets of sorts, saturated with humour and distance. The artist is intrigued by interiors, frames and fragments which become building blocks for his new, individually imagined compositions. He has lived and worked in Lublin since 2013.
---
Szymon Popielec / Shrine

The tangle of plastic soldiers and various "retrieved" objects is so twisted and dense that it seems to be alive. Some kind of war – or maybe rather a procession of toys – progresses under the vigilant eye of deities of the shrine.
Tortuous maze of figurines and changed objects craves for viewers' attention. Every element of this work has been transformed, including an odd vehicle in the foreground, elements of construction and all the figurines. The work drips with colour, silver and gold. There is a variety of shapes and details. Colourful toy-soldiers in bizarre clothes are accompanied by clowns. It is a true carnival.
This abundance of items makes the Shrine resemble a rubbish dump or the work of a mad designer. However, in this mass of peculiar objects it is possible to identify eyeballs, spools of sewing thread, cog wheels and event pieces of jewellery. This cross section of civilization encompasses everything that the said civilization rejects and makes the rejected objects the building blocks of this world worth praising. The recycling made by the young artist can be interpreted in various ways: as the transformation of a toy into an object of art, as the metamorphosis from a piece of rubbish to a visually appealing object, and, finally, as the conversion of random objects into a pictorial representation of a scene from everyday life.
Szymon Popielec (b. 1989) graduated from the MCSU College of Fine Arts in Kazimierz Dolny, with the BA diploma in intermedia art under prof. Jan Gryka. Currently, Popielec is studying painting at the MCSU Faculty of Arts in Lublin. In his work, he uses plastic toy soldiers, which he repaints into representatives of different social groups, including pop culture icons and average citizens. His work expresses the belief that we are all "warriors of our time" fighting for our own dreams and desires, which, however, are sometimes negative. In order to pursue our plans and strategies, we are all wearing some kind of camouflage. He lives and works in Szczebrzeszyn.
---
Eliza Galey / my, treasure, dear

Eliza Galey made her personal experience of temporary sight loss the centre of her artistic work. She creates paintings using a technique known from the Braille alphabet. Her works encourage the viewers to touch them and to feel them. They are about senses and their meaning in experiencing the world and communicating with it. The three pieces presented at the exhibition use the same technique as Galey's other works. They are, however, more intimate as they are portraying the artist's family members, described in the title.
White faces against a white background are visible only because of their texture and the piercing amber and blue eyes of the portrayed. All three faces are concealed behind a sheer bandage, which creates additional, incredibly delicate layer. The artist seems to be saying that family members need to be protected and taken care of, treated and cuddled, especially when something bad happens to them. Fine sheer fabric wants to be gently touched, it encourages viewers to run their fingers along its surface in search of familiar faces. Senses give a foretaste of feelings and the artist decided to share them with us.
There is a certain rhythm to the three pictures, which the artist achieved by arranging them in a particular order. My portrait is entirely covered, Treasure has been blindfolded, while Dear can watch without any restrictions, although the bandage protects him from the glances of others.
Eliza Galey (b. 1978) graduated from the MCSU Institute of Fine Arts in 2002, with the diploma in graphic arts under prof. Grzegorz Mazurek. In her work, she uses the Braille's system to create drawings on white paper. She focuses on the limits of human perception, on touch, as well as on the visible and the invisible. She is also the author of videos in which she touches upon very personal subjects connected with trauma, emptiness, depression, alienation and abandonment. She lives and works in Lublin.
---
Anna Nawrot / …Women's World Is Not Just Flowers and Cosy Interior

Women's World Is Not Just Flowers and Cosy Interior, but most of actually thinks it is, to a greater or lesser extent. It is believed that a typical feminine interior is full of knick-knacks, plants, soft pillows, serviettes, tablecloths and carpets. Therefore, the interior of a room becomes the extension of a person. By seemingly reinforcing stereotypes, the artist, in fact, plays cat and mouse with them.
Placed on a round traditional-pattern rug, the installation seems to be very cosy and domestic. There are plant stands, soft fabrics, including yarn, and ties. The latter are characteristic of Anna Nawrot's art. She plays with sexual attributes and feminizes men's ties by creating visually appealing images out of them. Yarn, on the other hand, is the product that typically belongs to women's world.
What is the relation, then, between the feminine interior and women's world? Figurines incorporated into the installation come from all over the world, including Ukraine, Greece, Peru and India. They not only represent ideals of feminine beauty, but also various constraints imposed on femininity. They also evoke different symbolic associations with fertility, maternity and nature. The artist recycled and transformed those objects by locking them under a glass dome, by equipping them with plinths wrapped in ties and by bandaging them in yarn. As a result, a female bust is having a cocoon on its head and there is only a pair of tiny hands sticking out helplessly of an orange ball of yarn. There are mysterious containers with blood-like substance, a "torn" mannequin dripping with milk seems to be disturbingly familiar. This pleasant and warm, domestic interior full of clutter turns out to conceal an inscrutable secret of femininity.
Anna Nawrot (b. 1960) graduated from the MCSU Institute of Art Education in Lublin, in 1983, with the diploma in painting under prof. Marian Stelmasik. Together with Jan Gryka, she has been running the Biała Gallery since 1985. The artist works with installations using mainly dresses, sheets and ties, which often refer to her personal experiences, but also are a comment on issues connected with gender. The materials she incorporates in her work often tell their own stories of usage, abandonment and retrieval (they usually come from second-hand shops). Although ties are culturally attributed to men – typically, they are a part of men's fashion – the artist uses them to decorate woman-like mannequins, evoking associations with female beauty and resulting in semiotic shift of cultural stereotypes. She lives and works in Lublin.
---
Irena Nawrot / Multiple Self-Portrait. Anna, Multiple Self-Portrait, Self-Portrait with a Skull

As Susan Sontag once noticed, "Photographs may be more memorable than moving images because they are a neat slice of time, not a flow." For Irena Nawrot, photography is a tool used to fathom the mystery of ephemerality, transience and passing time along with the secret of how history and identity are shaped. In her work, she creates handmade patchworks of duplicated photographs depicting herself and closest members of her family, including her twin sister.
For Irena Nawrot photography is a broad medium. One of her works includes a striking image created from X-ray pictures of the artist's skull. A human skull – a model symbol of vanitas – is no longer universal, it becomes intimate. Various transformations of images render them subtly unreal and allow the artist to distance herself from her face and her body, as well as to look at herself from the outside perspective. However, on the other hand, the multiplied sewn up faces serve as a reminder that not only body and image exist, but also that it is impossible to separate from them as they play important role in developing human identity. Hence, we become both viewers and witnesses of how the artist – through her work – reveals her inner self along with the process of her own transience.
Nawrot's work in the form of sewn tapestry may be associated with tradition and typically feminine activities. The laborious process of creation itself may also be considered as the reflection of the raised issue.
Irena Nawrot (b. 1960) – a graduate of MCSU Institute of Art Education in Lublin and a worker of the MCSU Institute of Fine Arts. Her medium of choice is photography and the technique that she uses consists in multiple hand colouring of enlarged black and white photos. In her work, considered to be photographic performances, Nawrot uses her own experience of corporeality and renders it more universal reflection on ephemerality and transience. Members of her family are often her models. For several years now, she has been using old photographs, copying them and sewing patchworks. She lives and works in Lublin.
---
Mariusz Tarkawian / Lexicon

Mariusz Tarkawian is capable of drawing almost everything. He draws all the time with dizzying speed. He even set up a drawing company called "Speedy Gonzales", which operated successfully, replacing video and photographic cameras, as well as photocopiers. Not only, however, is he a careful observer but also an imitator, who copies works of art and thus gives them new meaning. Sketches, which in art history were underestimated and were not usually intended as a finished work (hence they quickly vanished) are characteristic of Tarkawian's artistic activity. However, in spite of painstaking effort, many of his drawings – especially those made on walls – also disappear, when their surface about to be painted over before the next exhibition.
Lexicon, based on the book " Zwierzęta i rośliny Europy" (Animal and Plant Life of Europe) will last only because it was drawn on paper. To some extent, it refers to an earlier work by Tarkawian – Art History Test – in which he drew the iconic works of art history. In case of Lexicon, sculptures and paintings were replaced by animal and plant life. In the past, sketches and studies were a necessity in the work of every painter, they were a prescribed part of their education. Mariusz Tarkawian mastered them to perfection.
It is also worth noticing that nature always fascinated masters of painting and studying it was essential. Artists in the past were fully aware of what species of birds or trees they were depicting, even if they were only a part of a background. Leonardo da Vinci, for example, in one of his works contemplated on various dendrological nuances in the following way, "Branches and leaves are arranged haphazardly, and hence their concentration differs. Shapes and heights of trees also vary. Some have branches growing at the base of the trunk, as in the case of cypresses, while others have spreading boughs, like oaks (…) Some have small leaves, while the leaves of others – of junipers or plane trees – are alternate in arrangement."
Mariusz Tarkawian (b. 1983) graduated from the MCSU Institute of Fine Arts in 2009, with the diploma in drawing under Jan Gryka. Through sketching, Tarkawian has been recording various impressions of not only events taking place at the Biała Gallery, but also of other places, events and people, since 2005, when he participated in the exhibition Nova Biała, which was also his artistic debut. His drawings depicting transitory situations are full of humour and, with time, reveal unique accuracy and preciseness. The artist is also the author of an already non-existent monumental drawing project History of Art and Civilization Test, in which he depicted the outline of the history of art and of civilization from Palaeolithic Age to present times. Currently, he lives in Warsaw.
---
Edmund Okstom / Untitled

Thriller-like tension and anxiety can be felt in the air of the static black and white paintings created in the spirit of surrealism. Incredible as it may seem, the author of these images, Edmund Okstom, is self-taught.
In one of Okstom's paintings, a person, rendered in dark colours, is looking into a huge hollow in a tree, probably made by a lightning. Similarly to leaden clouds billowing in the sky, dark and dense leaves of the tree crown are whirling above the figure. Grass is thick and plain as if it was a carpet. The figure's head is entirely enveloped in darkness and it feels like it will be stuck there forever. Specific compositions of Okstom's paintings resemble movie frames: a hand held out in a defensive gesture and a torturer leaning over a victim, a group of knights exhausted after a fight, two men fighting or boys locked in an embrace. All these images are motionless and they seem unnatural. Even the landscape, clouds, smoke, fog or lightning look unreal. The feeling of utter emptiness is strengthened by figures and objects presented in isolation.
The young artist is sparing with details as he focuses more on various hues and shades of black and white. His painting technique reveals his interest in both academicism and popular culture. His works can be interpreted as both horror-film sequences and modern, original references to the 20th-century art masters.
Edmund Okstom (b. 1991) – works mainly with the medium of painting. The sources of his inspiration include: 19th- and 20th-century art, the VHS-aesthetics of 1980s music videos, suspense movies and horrors, net art, culture of European pagans, natural history, post-punk flyers, Victorian and brutalist architecture as well as the Northern Renaissance. He lives and works in Lublin.
---
Kamil Stańczak / Organic Chemistry

The wall covered with bracket fungi may be treated both as an installation and architectural intervention, which harmonizes with the surrounding space. Balancing between the artificial and natural, its author specializes in transforming trivial objects into aesthetic ones. In this case, cold industrial dullness is being disrupted by spitting images of fungi.
In his artistic practice, Stańczak has already poured concrete into a gallery, installed a trunk in the middle of an exhibition room, created miniature buildings and juxtaposed inconspicuous architectural objects with explosions of bright colours. In each case, all those works –separated from their landscape, to a greater or lesser extent – harmonized with the surrounding space. A concrete bunker or a trunk, when placed within the four walls, create certain disorientation, as if they confused the interior with the exterior. The sight of the wall overgrown with bracket fungi, which have no right to survive in this environment, causes similar bewilderment (these growths seem to be fine even in the underground environment – it is enough to come closer and look down).
In his works, the artist disturbs the balance, plays with perfection and symmetry. The bracket fungi grow in an orderly manner and the artificial environment turns out to be well-organized and better for living than the natural one. The artist's decision to use only two mellow colours allows the Organic Chemistry to live discreetly, to not stand out as something strange or unnatural. The installation appears to be in the right place to the extent that we want to come closer and touch the fungi, to check if they are real, even though we know it is impossible.
Kamil Stańczak (b. 1980) graduated from the MCSU Institute of Fine Arts in 2004, with the diploma in painting under prof. Stanisław Żukowski. Stańczak also works at the MCSU Faculty of Arts. He works with various media, particularly with painting, installations and graphic arts. He also creates art objects and architectural models, as well as builds devices that can be set in motion. Characteristic of his art are explosions of bright colours, abandoned buildings, bunkers, basements and underground corridors, along with plants growing in them. By selecting specific elements of wild nature and post-industrial architecture degraded by civilization, the artist creates peculiar and mysterious landscapes, both natural and artificial, suspended between the real and the imaginary. The two worlds incessantly collide with each other providing the basis for Stańczak's artistic explorations. He lives and works in Lublin.
---
Marta Fic / It's All Right, It's All Wrong

Using quick, schematic form, Marta Fic tells anecdotes from everyday life. Small talk and clichéd situations are only an excuse to capture something more meaningful, when protagonists of her stories accidentally reveal the truth about themselves, about their lives and people around them.
A comic strip with a cauldron filled with body parts opens the entire series. It is dedicated to all those who are not interested in it. Indeed, looking through all the drawings requires a lot of patience. It is, however, worth doing as there is a grain of truth to each of the short stories created by the young artist.
The main protagonist, who is also the narrator, presents the scenes she witnessed in a shop, at home or on a bus. Dialogues often soak with nonsense ("Kaska, you look mature, you will buy us some beer!"). Sooner or later, however, in this world created by Marta Fic everything "goes wrong" crushed under the burden of the absurdities of life. Drawings are accompanied by rhymes and even by maxims ("You're doing nothing, just having fun, then comes the old bag and you're done"). They are amusing and captivating not only when read as a whole, but also at random.
Marta Fic (b.1989) graduated from the MCSU Institute of Fine Art in Lublin. In her work, she keeps looking for everything that is unknown and deeply hidden behind the mask of superficiality. She finds her inspiration in the past. Memories, fantasies and dreams are an inseparable part of her artistic activity. She participated in a group exhibition Self-Portrait – Mirror and Other Memories, which was a part of the Young Art Forum organized by the Biała Gallery (Lublin 2013). At that time she presented comic-strip drawings about the absurdities of everyday life. She lives and works in Lublin.
---
Michał Stachyra / Mike Cox – Sexuality tour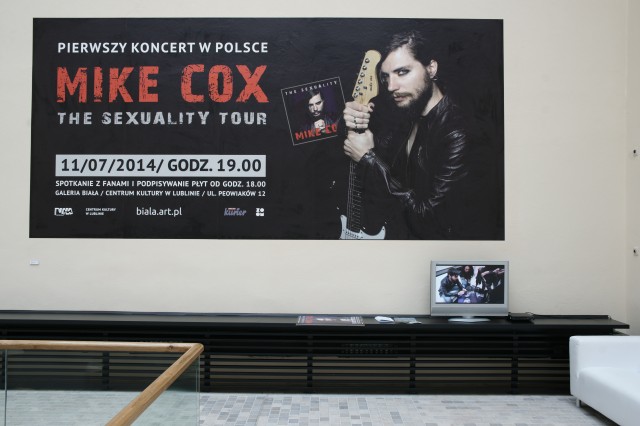 He can be considered to be either a hot rock star or an ephebe with black nails, who robs teenagers of their sleep. Mike Cox came to Lublin putting all journalists on alert. A janitor is still finding women's underwear that Mike's fans left at the gallery…
Michał Stachyra is a parodist, ironist and the artist of many faces. Now, he returned as a rock star – Mike Cox – responsible for the success of such bands as Portishead and Radiohead. However, it turns out that Stachyra played his role just to pop a balloon with the inscription "Celebrity". During the exhibition opening, he showed up wearing sloppy and-yet-hip rocker clothes, signed his albums and talked to the public. Many people actually believed that he is a famous musician who visited Lublin.
Stachyra is an artist and an actor. He carefully prepares for his roles/performances and thinks about all the details, including his appearance and image. He has already been a Finnish archaeologist and a conservator-restorer who "discovered" an unusually old fresco at the Biała Gallery, which depicted… actors from the One Flew over the Cuckoo's Nest. He opened a psychological clinic for artists whose works are not exhibited at galleries and he went on a mission to Iraq to popularize art (before that he arranged a Catholic funeral of Saddam Hussein).
Stachyra's art works as the barometer of current events. It draws viewers' attention. Its message is clear, readable and emotive, regardless of whether the artist impersonates a runner-up in a male beauty pageant or a rock star of ambivalent sexuality. Murals, billboards or videos are only a small part of his work. Stachyra is, in fact, a performer of the humdrum reality entangled in the world of mass media.
Michał Stachyra (b. 1981) graduated from the MCSU Institute of Fine Arts in Lublin in 2006, with the diploma under prof. Jacek Wojciechowski. Stachyra is a performer, author of installations, art objects, videos and murals (also created in public places). In his artistic projects, he plays different roles and changes his identity. His incarnations include: a Finnish archaeologist, a runner-up in a male beauty contest for the Most Handsome Student in Lublin, an anti-terrorist, an art curator of the Pilgrimage through Art and a founder of a psychological clinic for artists. Stachyra's art touches upon various social and cultural issues. He is interested in social roles people play as members of a group, in historical interpretations and art-related issues. Currently, he lives and works in Warsaw.
---
Rafał Czępiński / Good evil

An enormous mural by Rafał Czępiński can be read endlessly. Deciphering all the overlapping tags and words would require possessing super powers, but – fortunately – it is enough to take a glance at only some of the inscriptions to have a good grasp of the message.
It is the message, and not the act of transferring street elements into the gallery, that is the essence of Czępiński's work. By spraying onto one wall all sorts of slogans found in the streets, the artist created a peculiar chronicle of Lublin. The oxymoronic title, Good Evil, reflects the vehement nature and intensity of emotions – ranging from love to hatred – that these slogans are charged with. Good Evil may also make us think about the conflict between the aesthetically good – neat and tidy – public space and aesthetically evil – uncontrollable and unrestrained – manifestations of city life.
The language of street art covers not only every inch of the gallery wall but also paintings that were hung on it earlier. This gesture allows the language to retain some of its rebellious nature and revolt against the inviolability of certain spaces.
Rafał Czępiński (b. 1988) graduated from the College of Fine Arts in Kazimierz Dolny, with the BA diploma in painting under dr hab. Sławomir Toman. In 2013, Czępiński completed MA studies under prof. Jan Gryka in the Intermedia and Drawing Studio of the MCSU Institute of Fine Arts in Lublin. In 2013, he founded an artistic collective MARAZM. He creates realistic paintings and street art murals. He uses the same convention at galleries, juxtaposing street tags and graffiti with the existing space which he entirely – including walls, floors, ceilings, furniture and equipment – covers with his art. He lives and works in Lublin.
---
Danuta Kuciak / Happy Birthday

Birthday wishes to the American President sang in a sultry voice by Marilyn Monroe made history. There were no doubts who was offered as a gift and the song itself became a pop culture symbol of femininity, which is seducing, provoking and generous. Regardless of the fact to whom Danuta Kuciak dedicated her Happy Birthday – whether it was to herself, to a man or maybe to someone else – her work is at complete variance with stereotypes created by the platinum blonde actress.
Pensive, almost vacant, expression of the artist's face opens a series of eighteen self-portraits. In the first photo, her eyelids are lowered while she is looking away. In the last one, she is wearing a skeleton mask and a red birthday hat at a jaunty angle. However, the smile she is giving is not hers. Everything that is happening in a sequence of photos stands for a boisterous celebration – an unrestrained party of birthday attributes, including: funny ears, big red clown nose, carnival mask, Hawaiian garland, trumpet or a balloon. What does not fit the situation is the expression on the face of a woman who is wearing all those birthday gadgets.
Undoubtedly, the black background contrasts the festive atmosphere of a birthday party. Sad, confused, surprised look and lowered eyes also seem to be out of place. Each portrait can be watched and interpreted separately. In some of the photos, the artist brilliantly performs her role tilting her fancifully decorated head, just to do something completely unexpected in some of the others, like eating colourful decorations. When we look at all these images together, we realize that we became the spectators in the bizarre and artificial theatre of expressions and gimmicks.
Danuta Kuciak (b. 1963) graduated from the MCSU Institute of Art Education in 1991, with the diploma in painting under prof. Mieczysław Herman. She works at the MCSU Institute of Fine Arts in Lublin. In her photographic projects, Kuciak has always been both the model and the photographer. Using props, outfits, make-up or even hairstyle, she assumes new identities impersonating people form the art world or representatives of popular culture. Her photographs are an artistic game played with the media and cultural image in the context of stereotyping.
---
Viola Głowacka / Rich Bitch

"Where are those men?" Danuta Rinn sang bitterly. Viola Głowacka answers this question, suggesting that all the tattooed and unshaven men went out to sea to eat cookies and fruit. Women, however, are not much better than them.
Even if depicted en face, human figures in the young artist's works are nothing but phlegmatic and jaded (except for the macho man in the corner of the exhibit room, proudly flexing his tattooed body). Military decorations pinned to an undershirt, which reveals a "carpet" of well-groomed chest hair, nipples showing through a sheer muscle shirt and pin-up style photos of both men and women hanging on the wall – all that only proves that these sailors want to present themselves in the best possible masculine light.
Głowacka's work includes several paintings depicting similar genre scenes that express the absurd, boredom and limbo. Everything here is still and motionless. The feast goes on, but nothing – even knife in someone's head or heart speared with a fork – can bring life to this world. The main female figure – the title "rich bitch" – is present in body and spirit. She is the one making male muscles flex. In one of the pictures, fatigued with life, she sank to the chair, in others she is either holding a small ratter as if it was a rag or – awkwardly posed – she is reading a magazine, wearing only knickers and see-through tights… Her tiredness is contrasted by the images of a pit bull and of Vladimir Putin – both symbols of vitality, brutality and male dominance.
The crew of the ship HMS Bounty (which is also the name of the artist's favourite chocolate bar), famous for the rebellion against their captain, was initially motivated by high ideals. Later, however, the morale sagged and a relaxed atmosphere pervaded on the ship, leading to the mutiny.
Viola Głowacka (b. 1985) graduated from the MCSU Institute of Fine Arts in Lublin in 2009, with the diploma in painting under prof. Jan Gryka. In 2012, she completed postgraduate studies in Industrial Design at the Lublin University of Technology. Głowacka is interested in figurative art. In her easy, sketchy paintings, she refers to the state of boredom, which she finds intriguing. She tries to analyse typical reactions, interpersonal relations and lack of emotions and incorporates them into her paintings, creating a very specific atmosphere of expectation and alienation. Currently she lives and works in Cracow.
---
Julia Curyło / God Particle

Religion and its correlation with collective imagination are the two phenomena that interest the young artist, who shows the ambiguity of kitschy objects of cult, when juxtaposed with elevated ideas which they are to epitomize. Her works, which expose the "pop culture nature of religion", generated a boisterous discussion on the pretentiousness and superficiality of such artistic activities.
In her newest work, Curyło presents a series of canvases with mandalas built into them. Mandalas, which, first and foremost, are associated with Hinduism and Buddhism, also have a universal meaning. Their circular form symbolizes the divine and the ideal; it is the synonym of infinity and eternity. Meanwhile, resembling roadside shrines or pictures buried in the ground, there are devotional objects hidden behind glass squares, often accompanied by artificial flowers. Square is a human creation, hence it is imperfect, and yet, it is the square that appears to be the dominating ornament in Curyło's works. This impression is strengthened by the presence of twinkling and blinking tacky colourful lights.
However, there is even more to Curyło's work than the meeting of the divine in the form of a mandala circle and the earthly represented by a square. Abstract elements of the works are renditions of processes taking place in the Large Hadron Collider. The title God Particle refers to the Higgs boson or H0 – a hypothetical elementary particle that is to answer the question about the origins of all matter in the universe. It is an interesting question from both scientific and religious point of view. Is there any relation between the particle that is thought to have brought all matter into existence and the spiritual matter? Will science be able to dispel all doubts that torment human's spiritual life? Such doubts could be heard when the "devil's device" was to be launched. Many associated this event with the end of the world. Therefore, the artist's work also raises questions about the relation between scientific discoveries and spirituality.
Julia Curyło (b. 1986) graduated from the Warsaw Academy of Fine Arts in 2009, with the diploma in painting under prof. Leon Tarasewicz. She works mainly with the medium of painting, but is also interested in installations and public projects. One of her most recognisable works – Lambs of God – shown at the Marymont metro station in Warsaw, generated various discussion on the state of Polish religiousness. In 2010, Curyło received the Minister of Culture and National Heritage Grand Prix. A year later, she was a nominee in the 10th Geppert Competition. The artist is interested in combining and juxtaposing the lofty with the mundane, as well as in playing with high culture and popular culture. She is curious of the relation between collective imagination and religion. She lives and works in Warsaw.
---
Monika Zawadzki / Warm Water

Warm Water is an incredibly ascetic work. Therefore, there is no room for randomness. Everything here is important, like shapes and angles of objects, as well as the fact that there is almost no colour. Although Zawadzki's work displays an economy of form, it is rich in content.
Zawadzki's minimalist pieces are often compared to graphic signs. However, they combine other elements from design to social reflection. The first thing striking about her work presented at the Biała Gallery is the fact that it is impossible to sit at the table. A human – "the measure of all things" – has been excluded from this arrangement. There are only objects – an abundance of matter and its various states.
Matter, both animate and inanimate, is an important part of Zawadzki's interests. It is a mystery that can never be entirely solved as the origins of matter are unknown. The only certain thing about it is that it is eternal. At the same time, she questions the anthropocentric perspective, according to which human beings are the central species on the planet.
The intimate work that Zawadzki presents at Biała encourages viewers to make their own interpretations; it makes them interact with it, although their presence will be only temporary in the context of slow physical processes that are taking place continuously.
Monika Zawadzki (b. 1977) graduated from the Faculty of Graphic Arts of the Warsaw Academy of Fine Arts. She is a visual artist who creates simple forms using such media as sculpture, painting and video. She has devised her own visual language of expression based on recurring motifs. The colours used by Zawadzki are most often limited to black and white. The issues she addresses include identity exclusion and social restrictions. She focuses on the functioning of mechanisms that determine life of individuals and such phenomena as diversity, sexuality and corporeality. She is also interested in the transformation of the matter. She lives and works in Warsaw.