Opening: 23.10.2015, opening hour: 18.00
Open until: 20.11.2015, opening hours: Mon-Sat 12.00-18.00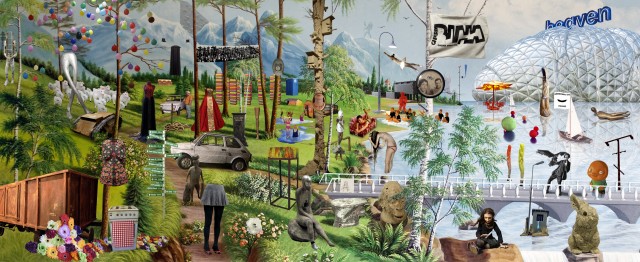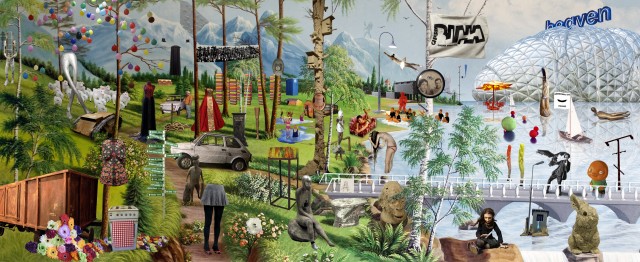 We suggest you a guide to art based on the work of the Artists who've been appearing in Biała Gallery occasionally, spontaneously or periodically. Although the 30 years have past we do not balance or sum up, but instead we are looking for new constellations and artistic events.
We're going back to the notion of the first exhibitions in Biała Gallery from the second half of the 80's. Created then ,,Wieża Bab" was associated with the art of women. We also remind some themes from the Gallery's later output. The exhibition of Joseph Beuys from the collection of Muzeum Sztuki in Łódź, organised in 1986 with Andrzej Mroczek, became an inspiration for the youngest artists. The works of Leon Tarasewicz, Robert Kuśmirowski, Mariusz Tarkawian and Szymon Popielec are reflected in a ,,cloud" of souvenirs, gadgets and various, countless artistic objects.
Come to the landing of the white plates, communal collecting, nihilistic musical rhythms and a humble treat on 23.10.2015 at 6 p.m.
participants:
Milena Brudkowska, Bogna Burska, Kama Bubicz, Agnieszka Dudek, Eliza Galey, Jan Gryka, Sigrun Jakubaschke, Paulina Janczylik, Paulina Janowska, Karolina Komorowska, Robert Kuśmirowski, Katarzyna Korzeniecka, Danuta Kuciak, Marzanna Morozewicz, Anna Nawrot, Irena Nawrot, Jerzy Norkowski, Edmund Okstom, Agnieszka Ozimek, Paulina Sadowska, Jadwiga Sawicka, Urszula Pieregończuk, Szymon Popielec, Marcin Proczek, Katarzyna Sienkiewicz, Kamil Stańczak, Tatiana Talipova, Leon Tarasewicz, Mariusz Tarkawian, Olga Winiarczyk, Piotr Wysocki, Monika Zawadzki, Zenek & others.
8 p.m. | dePresja club | Berlin–Lublin Express | live performance of audio-video group – NAO Sternenhoch | Jerzy Truszkowski, Michał Pikula, Grażyna Gwizda, Marek Gwizda
In the spring of 1985 in Biała Gallery there was an exhibition intilted Wieża Bab (a wordplay on The Tower of Babel meaning The Tower of Hags). Only women presented their works – 10 young female artists from Lublin, Wrocław and Kazimierz Dolny. Their names are placed on the painting by Krzysztof Bryła; the work is inspired by the original poster of the exhibition. The painting hangs at the entrance to the Double Hall. The Wieża Bab exhibition presented collages, objects, photographs, ceramics, paintings on glass, movies and performances.
The present exhibition in the Double Hall is an attempt to return to the idea of the previous one. The exposition contains works of fourteen female and one male artists. Paintings, photographs, objects, drawings and movies deal with the problems of carnality, evanescence, death, disease, violence and the stereotypical image of a woman which exists in cultural, religious and social contexts.
In the Long Hall there are works which recall the begining of Biała Gallery, its history and artistic debuts. The first thread recalls the inaugural exhibition of Leon Tarasewicz which happened on 26th of February, 1985. There is a reproduction of the legendary ,,field" on the galery wall, originaly rendered on wrapping paper. The second recall deals with the debuts under Młode Forum Sztuki (The Young Forum of Art) which was created in 1996 by Jan Gryka. Robert Kuśmirowski, Mariusz Tarkawian and Szymon Popielec are only a few of many who have started their artistic path in Biała Gallery.
Robert Kuśmirowski's Rysumenty (Drawcuments) are combined of 10 drawings. They are copies of original Rysumenty created in 2001 when he was studying at the University in Lublin. In 2012 those copies where a basis of his doctoral work at his alma mater, UMCS. Mariusz Tarkawian appeared for the first time in the Gallery in 2005 in the exhibition entitled Nova Biała. As a volunteer he created a series of ,,suspicious" drawings. The youngest artist is Szymon Popielec whose subtle objects where first exhibited in 2013.
The third thread, closely associated with Biała, is a collection of miscellaneous souvenires, gadgets, artistic objects and original works given to the gallery by the artists themselves.
Mariusz Tarkawian has done an unusual project dedicated to the art of Biała Gallery. It is a limited and unique set of 65 drawings on glass and porcelain plates. Tarkawian's plates quote the works of (among others): Leon Tarasewicz, Krzysztof Sołowiej, Irena Nawrot, Danuta Krupska – Sołowiej, Mariusz Kruk, Bruno Larek, Danuta Kuciak, Henk Visch, Joseph Beuys, Robert Maciejuk, Jan Gryka, Kamil Stańczak, Eliza Galey, Marzanna Morozewicz, Zenek, Robert Kuśmirowski, Viola Głowacka, Barbara Abramowicz, Anna Nawrot, Michał Stachyra, Boaz Tal, Julia Curyło, Michał Stachyra, Jerzy Kosałka, Cezary Klimaszewski, Pavel Doskočil, Ilona Oszust, Sławomir Toman, Katarzyna Korzeniecka, Sigrun Jakubaschke, Jadwiga Sawicka, Anna Maria Karczmarska, Maciej Sieńczyk, Marcel Duchamp, Grzegorz Przyborka, Jerzy Truszkowski, Ewa Axelrad and of course…. Mariusz Tarkawian.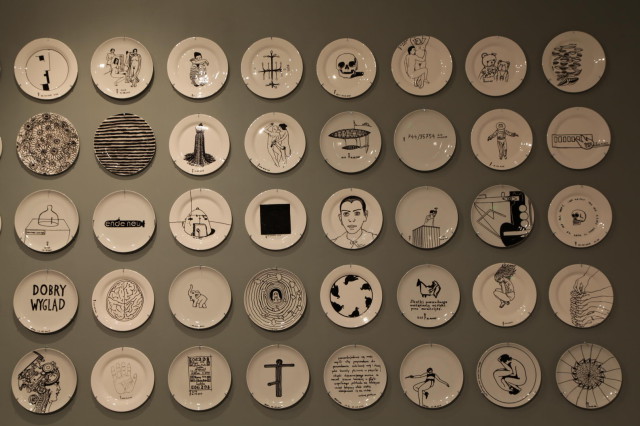 Attention! Attention collectors!
Let the attack of the white plates begin!
Up to 20th November you can book a plate (or a set) to purchase it later. The booking takes place in the Gallery's office or via e-mail: biala@ck.lublin.pl with apostscript: reservation.
Gross price of 1 plate is 65,00 PLN. First come first served. Purchase of the plates will be available in the cashbox of Centrum Kultury from 23rd November, 2015.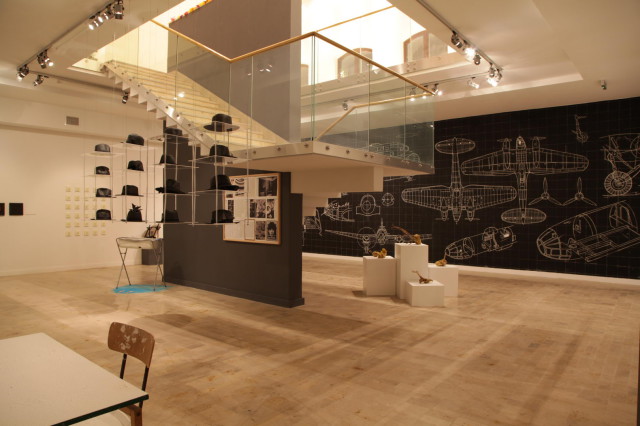 In the second year of Biała Gallery's activity, thanks to the help of Andrzej Mroczek, the director of Galeria BWA in Lublin, we managed to exhibit hundreds works of Joseph Beuys from Polentransport 1981, a gift of the artist for Muzeum Sztuki in Łódź – a gesture of solidarity.
Several hours before opening of the exhibition on 29th November, 1986 a censor wanted to close it. The cause was Joseph Beuys' Appeal for an Alternative published in the polish artistic magazine ,,Sztuka" in April, 1981, which was immediately removed from dissemination. A small amout of its circulation fell into the hands of the artists and the gallery. From one issue we have done photocopies of the text. After the intervention of the censor we decided to open the exhibition without the Appeal for an Alternative. Nonetheless, it was quoted at the opening by curators from Łódź: Janusz Zagrodzki and Jaromir Jedliński. We're showing all the texts related to Beuys from the archival issue of ,,Sztuka".
Hommage to Joseph Beuys (1921-1986) is an exhibition of students of the fifth year of arts education, painting and graduates of Maria Curie-Skłodowska-University in Lublin. For my generation Joseph Beuys was an artistic guru. By inviting young artists to the exhibition devoted to his work we wanted to present how his ideas still inspire young people.
The archival invitations to the exhibitions, lectures, meetings, concerts and other ventures of Biała Gallery in chronological order. From the Biała Dekada series graphic design was created by Piotr Wysocki.