Opening: 23.01.2015, opening hour: 18.00
Open until: 27.02.2015, opening hours: Mon-Sat 12.00-18.00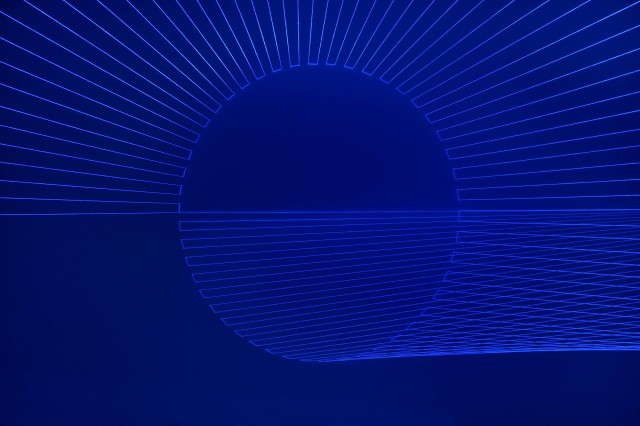 The road and wandering are leitmotivs running through Sławomir Brzoska's art.
Through his solitary journeys to different cultures, places that are off the beaten track or through encountering people living in archaic communities in exotic countries, the artist attempts to participate in the primeval rhythm of life he sees there. His personal experiences and emotions evoked by his travels are connected with the process of his journey. Photographs, objects, performance art and films touching the subjects of the road, nature, rhythm, the passing of time and searching for the mystical order result directly from his journey.
The artist is also known for his intricate, ephemeral installations constructed with the use of woollen string and the Ultraviolet light. He marks points on the gallery's walls that will then become the goals of his long and tiring route of "leading" the woollen line from one wall to the other. A few kilometres down the road, the rooms gets filled with levitating forms made of light. The artist treats the process of their creation as a form of meditation presenting another metaphysical aspect of travelling.
Sławomir Brzoska (born 1967) is a graduate of the Art Institute of the Silesian University in Cieszyn. He took part in a couple of dozen of individual and group exhibitions in Poland and abroad as well as a number of sculptures created in the public space. Between June 2007 and June 2008, as part of the project "A Year of a Wandering Life", he was on a journey around the world visiting 23 countries and carrying out numerous artistic activities. He works at the Artistic University in Poznań and at the Fine Arts Academy in Katowice.