Opening: 15.12.2017, opening hour: 18.00
Open until: 19.01.2018, opening hours: mon.-sat. 12.00-18.00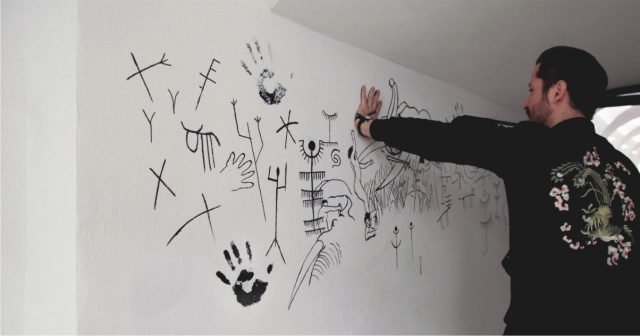 Kama Bubicz, Ilona Karauda, Bartek "Arobal" Kociemba, Wojciech Kucharczyk, Katarzyna Kukuła, Urszula Pieregończuk, Patrycja Podkościelny, Magdalena Sawicka, Mariusz Tarkawian
Drawing Tutoring exhibition is devoted exclusively to drawing. The realization of Mariusz Tarkawian in the corridor of the Biała Gallery, entitled Colloquium from the History of Art and Civilization, has been successively expanded by the artist since March 2016, by drawing selected motifs from each subsequent exhibition taking place in the gallery. This monumental realization and publication of the series of his drawings titled Contemporary Art Book * has become a pretext to show at the exhibition other artists, for whom drawing is an important form of expression.
The themes of corporeality, intimacy and sexuality are taken by Katarzyna Kukuła in her drawings. The sensory and emotional character of Magdalena Sawicka's works is emphasized by the choice of paper: its small formats and shades, as well as difficult and shameful bodily threads touched by the artist. Kama Bubicz, Urszula Pieregończuk and Ilona Karauda combine and distinguish original tattoos. Their photographic documentation surprises with the subject of these very personal drawings. Bartek "Arobal" Kociemba creates drawings of figures and plants. From a thousand colourful, densely growing flora-like lines, he builds layered collages from the Mokradło cycle, in which he looks at the interaction between man and nature. The layering effect is also present in the work of Patrycja Podkościelny. In its dark, subdued drawings, it combines three-dimensionality with flat patterns and economical stains, creating in this way remarkable, oneiric and disturbing entities. Wojciech Kucharczyk presents computer "anti-drawings" that refer to non-virtual reality and are a record of the current emotional state of the author.
One of the walls on the exhibition is intended for the audience who, by participating in the Drawing Tutoring, can make their own work with white chalk on the black board.
The exhibition is for adult viewers only.
* You can buy a limited edition of printed drawings by Mariusz Tarkawian and a catalogue illustrated by Katarzyna Kukuła.