Opening: 5.07.2019, opening hour: 18.00
Open until: 2.08.2019, opening hours: TUE-SAT 12.00-18.00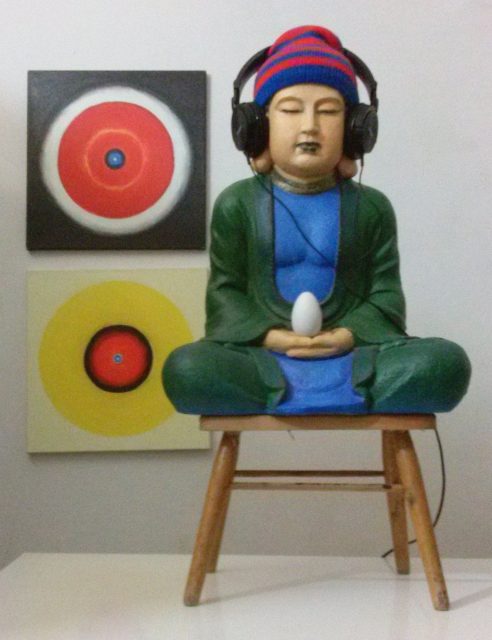 PIOTR LUTYŃSKI – MULTIDIMENSIONALITY
The phenomenon of multidimensionality is the essence of the mystery, in which we humans, immersed in matter, face the Universe. Modern physics is struggling with the problem called "What is matter?". Existence and non-existence in matter – at the same time it does not find understanding in the intellectual imagination of modern man.
It's not Shakespeare's anymore "To be or not to be" and "to be and not be at the same time, that is the question…".
Another concept difficult to imagine remains – infinity – surprisingly close to human. It occurs most often in the sphere of ideas, as inaccessible space, a distant dimension of reality. Nothing could be more wrong, billions of light invisible particles that we can not feel when they pass through our bodies, rushing through our planet from infinity into eternity. The stability of our body depends on the billiard operations, performed in every second with the speed of light, or by realizing that the atoms, we are 100% built of, are immortal and can not be killed in any way.
In this case, art is another language of communication between the visible and the invisible world, the means to know multidimensionality, the discovery of hidden meanings, the interpretation of the neural connections of our brain with outskirts of the universe, the electron and the proton of our consciousness, in the ocean of experiences.
Piotr Lutyński
Piotr Lutyński (born 1962) is a versatile intermedia artist. He creates painting, objects, installations, performances, concerts, multimedia shows. He combines natural materials including such as: bird eggs, grasses, feathers, stones, insects, wax with ready objects and abstract painting in a surprising way, making some utility objects for animals. From the late 1990s, animals became the co-creators of his artistic activities. He recognizes his own entanglement in the faults of art towards fauna. The artist, fascinated with matter, physics, nature, micro and macro worlds, gives each gallery space a different character and names it as: Dimension of the studio, Second life, Dimension of the Buddha, Dimension four and Ocean of electrons. Multidimensionality is the first and at the same time a very extensive exhibition of the works of this renowned Krakow artist in the Lublin gallery.
Sixty – concert of the band called RDZEŃ
The project originates in a theatrical car, a traveling cinema, a musical rolling stock built around the Bus-Gallery-Workshop (www.kr736ej.com) – a living sculpture that has been merging artists, musicians, painters and poets in joint activities for over a dozen years. They created a very energetic statement of interpenetrating musical genres arises from jazz, blues, rock through classical and folk, included in the performative and theatrical form of the spectacle and melorecitation.
This time the RDZEŃ team consists of: Piotr Lutyński – violin, Marek Kozica – cello, Ewa Małas – saxophone, Zbigniew Libera – drums, Fryderyk Lutyński – guitar, Adam Rzepecki – performance